Valeant Soared Over Drug Industry, Then Fell to Earth: Chart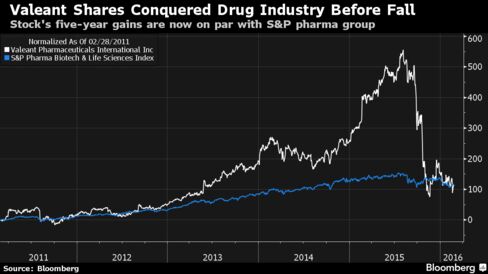 Investors who bet on drugmaker Valeant Pharmaceuticals International Inc. five years ago enjoyed returns that far outpaced competitors on the 25-member Standard & Poor's 500 Pharmaceuticals, Biotechnology & Life Sciences Index. But starting in August, Valeant faced a barrage of questions about its prices, business practices, accounting, and chief executive officer, who has been out on medical leave. The company, which announced on Feb. 22 that it would restate some earnings from 2014 and 2015, reports fourth-quarter results Monday. The stock is down almost 70 percent since its all-time closing high on Aug. 5, putting the five-year gains on par with the industry index.
Before it's here, it's on the Bloomberg Terminal.
LEARN MORE