Sotheby's Predicts `Significant' Loss This Quarter as Sales Drop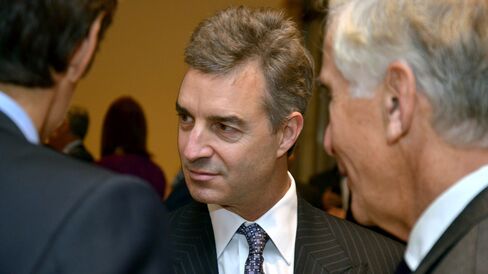 Auction sales are down 33% so far this year, company says

Barrington Research cuts rating citing 'mass exodus' of talent
Sotheby's, the auctioneer that's undergoing a management shakeup under pressure from activist hedge fund manager Dan Loeb, forecast a significant first-quarter loss amid a decline in auction sales.
First-quarter sales are down 33 percent so far this year, at $438 million, the company said Friday on a conference call, after reporting a fourth-quarter net loss of $11.2 million. The shares fell the most in two weeks.
"The market is a little tighter on consignments as people are in a wait-and-see mode," Chief Executive Tad Smith said on a conference call.
Smith, who took the helm in March 2015, predicted "difficult" quarters ahead. On Thursday, the company said two top art executives will leave the firm. Barrington Research cut its rating on the shares to market perform from outperform, citing a slowing art market, senior talent departures and concern about the company's long-term financial goals.
"There appears to be a mass exodus at the senior management level with the departures of some key talent, which we believe could result in a loss of important relationships and business," Barrington analyst Kristine Koerber said in a report Friday. At the same time, Sotheby's is faced with more "price sensitive" bidders and a lackluster market for high-end art, she wrote.
Loeb's Push
Loeb has pushed the company since 2013 to become more profitable, well before the art market started to cool off amid roiling financial markets. Smith, a former top executive at Madison Square Garden Co., has made several top-level hires while cutting jobs through buyouts.
Full-year net auction sales declined 3 percent to $5.02 billion in 2015. Sales so far this quarter are at levels "that fall somewhere between 2012 and 2013," Smith said during the call.
The company last quarter booked an after-tax charge of $23.6 million related to employee buyouts as well as a $65.7 million non-cash expense related to the repatriation of foreign earnings. Price guarantees that Sotheby's provided to the estate of its former Chairman A. Alfred Taubman to sell its collection also weighed on fourth-quarter earnings. The auction house guaranteed his heirs $515 million to win the trove.
Sotheby's shares have lost 48 percent in the past 12 months, compared with a 7.7 percent decline in the Standard & Poor's 500 Index of U.S. equities. The stock fell 6.8 percent to close at $22.74 in New York.
Talent Exits
The shakeup of top-level staff has intensified since November, when Smith offered the buyouts to employees. On Thursday, the company said Alex Rotter, the global co-head of the contemporary art department who has been with Sotheby's since 2000, will leave at the end of this month. Also, David Norman, vice chairman of Sotheby's Americas and co-chairman of Impressionist and modern art worldwide, is leaving after 31 years.
The latest departures follow Sotheby's acquisition of the 2-year-old private firm Art Agency Partners for as much as $85 million on Jan. 11 to boost sales. The company's co-founders, Amy Cappellazzo and Allan Schwartzman, joined Sotheby's senior management as co-chairmen of a new fine art division that comprises departments including Impressionist, modern and contemporary art. The heads of these departments now report to Cappellazzo and Schwartzman. Cappellazzo previously spent 13 years in high-ranking jobs at Christie's.
Smith, talking about the changes he made, said the departures of top specialists weren't unexpected.
"The dislocations as a result of that are largely what I have expected," Smith said Friday. "They are invariably a bit noisy. We didn't want them of course, but they are what we predicted."
Before it's here, it's on the Bloomberg Terminal.
LEARN MORE