Nokian Renkaat Apologizes for Past Tire-Testing Mistakes
Stock declines most in more than two years on newspaper report

Company says report refers to past mistakes since addressed
Nokian Renkaat Oyj apologized for what it said were "mistakes in the past" after its shares plunged following a local media report that the winter-tire specialist may have manipulated test results for years.
The Finnish company said industry practices in past years "were dubious" but that Nokian Renkaat has clarified its rules to "specifically forbid any planning or manufacturing of tires that are targeted only for car media tests," according to a Friday statement to the Helsinki stock exchange. The comments follow a report by business newspaper Kauppalehti that the company may have changed tire characteristics to achieve higher scores than competitors.
Nokian Renkaat declined as much as 9.6 percent on the newspaper report, its biggest intraday drop since Oct. 4, 2013. The share traded down 7.1 percent as of 5:19 p.m. in Helsinki.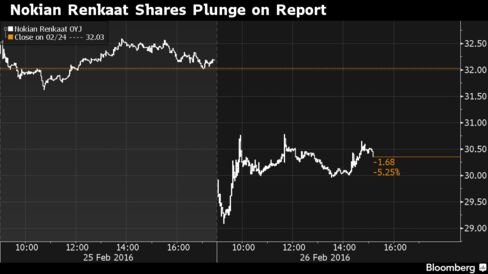 Testing by automakers and parts suppliers is coming under increased scrutiny following revelations by Volkswagen AG last year that it rigged diesel engines in 11 million vehicles. The German automaker is facing lawsuits by the U.S. Justice Department and state attorneys general and fines of as much as $46 billion, as well as hundreds of private suits, for using deceptive software to subvert emissions standards.
Michelin & Cie., Europe's biggest tiremaker, said Friday that it never manipulated its test results. The French company "has never designed or manufactured tires specifically for tests conducted by the media, automobile associations or any other organizations," it said in a statement, adding that its tests "reflect real life driving conditions using series production tires."
Nokian Renkaat Chief Executive Officer Ari Lehtoranta said the company no longer manipulates results by making tires specifically for test purposes, according to Kauppalehti. Lehtoranta, who took over as CEO in 2014, said industry practices for testing tires in the past have not been appropriate, the paper reported.
"These allegations have been made before in the tire industry, but my understanding is that these things haven't been going on for some years now," said Rauli Juva, a Helsinki-based senior analyst at Nordea who recommends selling the stock. "Regardless, I don't think that this is something that has the potential to really hurt Nokian Renkaat's earnings, so the share reaction looks overdone."
The tire maker earlier this month said that 2015 earnings before interest and taxes dropped 4.1 percent to 296 million euros ($325 million) and forecast that operating profit will remain at that level in 2016.
In its stock exchange statement, Nokian Renkaat said it wanted to raise the issue of testing itself, "as we have been increasing the transparency and ethicality of our operations on all levels." The company also said its board never agreed to any stock option programs that would have created incentives to cheat, contrary to "what has been implied in the media."