Loeb Adds Equity Bets 'Silly Prices,' Sees No Recession Ahead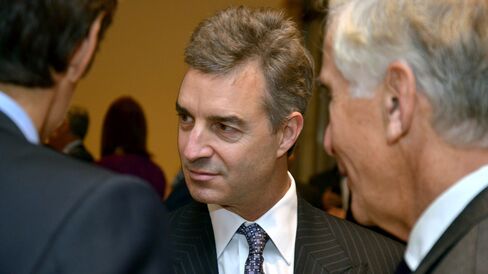 Hedging stock declines provides flexibilty to buy, Loeb says

Money manager sees opportunity in energy on the credit side
Hedge fund manager Dan Loeb said the economy is stronger than some investors realize and that the recent market rout gave him a chance to add to his stock bets.
"We see a lot of people that are on alert, but there haven't really been any signs of recession from either the economic data, the surveys or our individual conversations with companies," Loeb said Friday in a conference call held by Third Point Reinsurance Ltd. "We've actually increased our net exposure over the course of the month as some of these selloffs have created silly prices for securities."
Loeb is seeking to assure investors that he is poised for a rebound after a net loss last year at Third Point Re, the Bermuda-based reinsurer that counts on him to manage the portfolio. He said that his investment firm has a 20-year record of handling volatile markets and that his strategy for such periods includes hedging against market declines. The fund has increased single-name equity shorts by four-fold over the past year, according to a letter to investors this month.
Lower Blood Pressure
"The value of reducing volatility, aside from lowering the blood pressure of our team and our investors, is it really gives you the opportunity" to make long-term bets on underpriced securities, he said. Investors who are hedged against declines can "go in and make opportunistic acquisitions and purchases, which is exactly what we've been doing."
Loeb, who's known for pushing for corporate shakeups, said he's turned his focus away from seeking targets for activist campaigns. Companies have been improving operations and creating capital structures that are favorable to shareholders, he said.
"Boards are holding the management teams more accountable, they're getting a lot of pitches from bankers," he said. "We're really focusing on securities that are undervalued, where we can make investments and be constructive and not have to take any confrontational role with management teams."
The Standard & Poor's 500 Index dropped 11 percent this year through Feb. 11 amid concerns about declining oil prices and slowing growth in China. It has subsequently pared losses.
Loeb said he remains confident in health-care, industrial and consumer stocks and highlighted a recent investment in insurer Chubb Ltd. The money manager expects over-leveraged companies in cyclical sectors to face "some peril," though investors may be able to profit from energy if they pick their holdings carefully, he said.
Energy Bonds
"We're watching the energy markets very, very closely. We think that the better opportunities are on the credit side than on equities, as far as discounting potential bad news ahead," he said. Energy stocks face the risks of high debt levels and "now the threat of equity offerings to shore up the balance sheets."
Loeb's corporate credit book lost 3.8 percent in the fourth quarter, hurt by energy-related holdings. He said Third Point may add to corporate bond positions this year as he looks to diversify the fixed-income portfolio beyond residential mortgage holdings. His largest sovereign position, in Argentine government debt, helped returns, he said.
Third Point Re is among reinsurers that were created over the past decade with the idea that they could collect premium revenue for hedge fund managers to invest. However, new companies have struggled to find profitable insurance contracts, and Third Point Re said Thursday that it had a fourth-quarter underwriting loss. The reinsurer dropped about 1.7 percent to $11.23 at 4:15 p.m. in New York, extending its decline for the year to 16 percent.
Before it's here, it's on the Bloomberg Terminal.
LEARN MORE