Japan Census Shows First Decline in Population Since 1920
Tokyo had the biggest rise in population, while Osaka fell

Population in Okinawa prefecture had the biggest increase
Japan's population declined last year for the first time in nearly a century.
The number of Japanese dropped to 127.1 million in a national census for 2015, down 0.7 percent compared with five years earlier, according to data released today by the Ministry of Internal Affairs and Communications. The decline was the first recorded since the 5-year census started in 1920.
Japan is one of the world's fastest aging countries with 27 percent of people over 65 years old, according to the U.S. Census Bureau. Germany, France and Italy face similar population trends, with one in every five of their citizens over the age of 65, data showed.
Tokyo, Japan's capital, had the highest municipal population with 13.5 million. The city also recorded the biggest increase in population after Okinawa prefecture. Osaka, the country's second biggest city, is among 39 prefectures and cities that had a decline in population.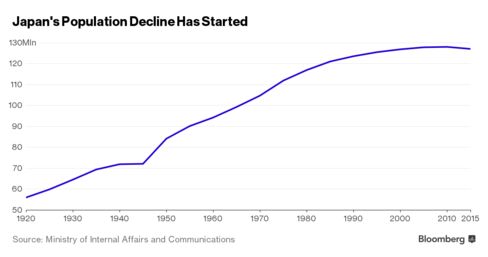 The ratio of Japan's 1,719 municipalities that had a drop in population expanded to 82 percent in 2015, from 77 percent in 2010. The number of households rose 2.8 percent to 53.4 million with the number of people per household dropping to 2.38 from 2.46 over the five-year period.
Before it's here, it's on the Bloomberg Terminal.
LEARN MORE