Invesco Buys Glencore, BHP Debt as Bondholder-Friendliness Grows
Fund manager focusing on short-term notes as miners cut costs

Metals, mining bonds have rallied this year after 2015 losses
Invesco Ltd., the manager of about $741 billion of assets, is buying large miners' bonds as the industry cuts costs and shareholder payouts to withstand a slump in commodity prices.
The fund manager will increase holdings of debt from companies such as Glencore Plc, Rio Tinto and BHP Billiton Ltd. to above the level recommended in its benchmark from underweight, said Lyndon Man, a portfolio manager. Acquisitions are centered on short-dated notes, including Glencore bonds maturing in less than three years and offering yields of about 5 percent following price declines.
"There has been a clear focus from the metals and mining names to be more bondholder friendly and undergo aggressive restructuring," said London-based Man. "Whilst the global growth story is weakening and impacting base-metal prices, we believe that valuations are compensating for these risks, especially in high-quality names."
Miners have shored up balance sheets by scrapping or selling projects, halting dividends and buying back debt after a slowdown in China led to a collapse in prices for copper, iron ore and other raw materials. The moves have helped stop a rout in the industry's bonds, following a 14 percent loss last year.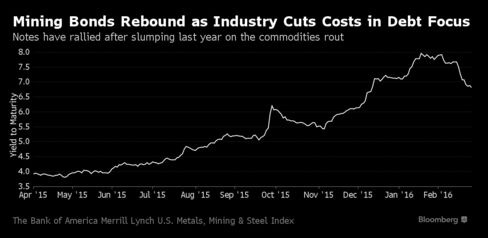 Muzinich & Co., which oversees about $24 billion of assets, added Glencore and Anglo American Plc bonds during a "big selloff" late last year, said Tatjana Greil Castro, a London-based portfolio manager at the company.
"We saw the opportunity," she said. "As long as these two companies have the near-term liquidity to sustain that soft patch and come out the other side, then they can reap benefits as the market improves."
Still, credit-ratings companies have flagged concerns, with a number of mining downgrades in recent weeks. Standard & Poor's cut Glencore one level to the lowest investment grade and lowered BHP to A, ending a 12-year A+ rating. Rio Tinto was lowered by Moody's Investors Service to Baa1, its third-lowest investment grade, on Wednesday. Anglo American fell to junk at S&P, Moody's and Fitch Ratings last week.
The downgrades haven't stopped investment-grade dollar-denominated metals and mining debt posting total returns of 2.7 percent this year, according to a Bank of America Merrill Lynch index. Yields have narrowed to 6.8 percent from 8 percent last month.
Invesco's Man said short-dated notes from Glencore yielding about 5 percent were "attractive" as the miner recently signed new loan commitments to replace an existing revolving credit facility. That means there will be no refinancing risks over the next two years, he said.
Glencore's 1.25 billion euros ($1.4 billion) of 4.125 percent notes due in April 2018 were quoted at 99 cents on the euro on Friday, versus about 112 cents a year earlier, according to data compiled by Bloomberg. They pay a yield of about 5 percent, the data show.
Before it's here, it's on the Bloomberg Terminal.
LEARN MORE