Pierre Thiam was born and raised in Dakar and came to New York to finish college after the Senegalese government shut down its schools and universities in 1988. Instead, Thiam found a restaurant job and went on to open a Senegalese restaurant in Brooklyn, then write one of the first cookbooks to explore his country's cuisine in English.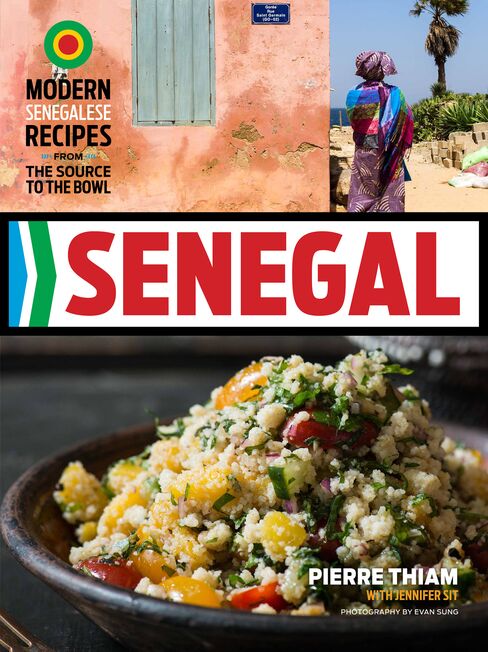 In his second book, Thiam reminds us that the food of Senegal is a rich and inexhaustible subject, tracing culinary lines between West Africa and the U.S., and calling attention to dishes inspired by the Vietnamese and Lebanese immigrants who've helped shape the culture. For instance, you'll find a recipe for nems, the cool, herb-packed summer rolls, tucked between those for jollof rice and fried fish with relish.
The book is part travelogue, moving through the country with joy and authority, from the former French colonial capital up north, to the tropical, southern region of Casamance, where Thiam used to visit his grandparents as a kid, and out to Dakar on the western coast.
Dakar's casual dibiteries are famous for serving meat cooked over coals or kissed with wood-fire smoke. But Thiam's instructions for making a beautiful dibi-style feast at home are straightforward and don't involve building a clay oven in your backyard. Instead, you turn the oven dial to 175, sit back, and let that super low heat work its magic on a bone-in leg of lamb.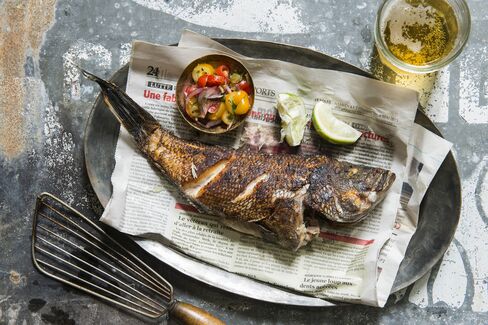 This really is one of the best things you can do to a leg of lamb. It takes forever (OK, eight hours) but requires very little of your attention and hardly any hands-on work. Meanwhile, the meat is transformed, becoming impossibly tender and ready to feed a crowd.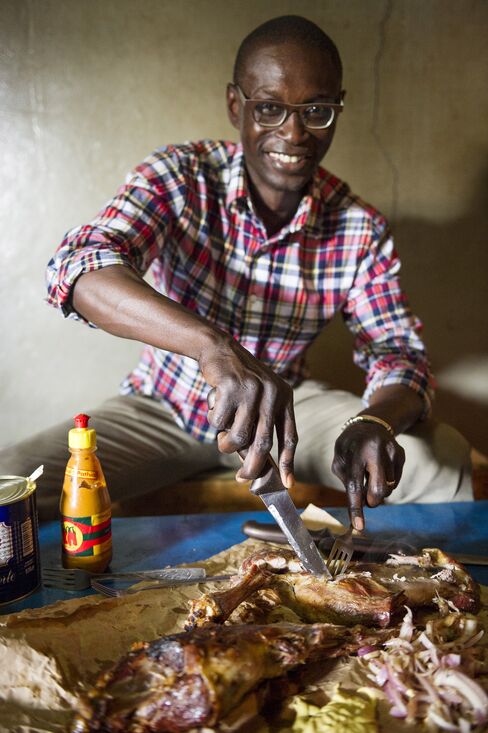 Thiam's recipe takes the low-and-slow method a little farther: Before the lamb goes in the oven, it's seasoned generously with garlic and thyme and wrapped up tight, dibi-style, in brown kraft paper, with sliced onions and just a little bit of water. This all steams gently inside the paper, so in addition to meat that's deeply flavored and falling apart, you end up with a wonderfully salty, garlicky juice—perfect for soaking up with a warm, mustard-smeared baguette.
If the packaging has held up at the end of those eight hours or so, and it probably has, you can plop it directly on the table and unwrap it like a gorgeous, meaty gift. And if you really want to do this thing right, make sure there's a bottle of habanero-powered hot sauce around, too—ideally, Thiam's version of kani, the spicy Senegalese condiment, spiked with tamarind and fish sauce.
Dibi-Style Leg of Lamb With Baguette and Kani Sauce
Adapted from Senegal (Lake Isle Press) by Pierre Thiam

Serves 8

For the lamb
1 bone-in leg of lamb
3 sprigs thyme, chopped
10 garlic cloves, peeled and thickly sliced
2 tablespoons dijon mustard
2 tablespoons ground cumin
2 tablespoons salt
2 tablespoons freshly ground black pepper
2 tablespoons vegetable oil
2 large yellow onions, thinly sliced
¼ cup water
Kraft paper (or parchment paper doubled up)
1 or 2 baguettes, for serving
For the tamarind kani sauce
1 tablespoons peanut oil
1 yellow onion, chopped
1 garlic clove, chopped
6 plum tomatoes, chopped
1 Scotch bonnet pepper, chopped
1 bay leaf
2 tablespoons tamarind paste
1 tablespoon sugar
2 tablespoons fish sauce
Salt and pepper, to taste
To make the lamb
Preheat the oven to 175. Trim some of the excess fat from the lamb, but not all of it, and use a paring knife to cut deep slits into the meat. Stuff the garlic and thyme into the slits. In a bowl, combine the mustard, cumin, salt, pepper, and oil, then rub this mixture all over the outside of the lamb.
Line a baking sheet with a piece of kraft paper that will be large enough to enclose the lamb. Spread the sliced onions in a layer at the center of the paper and place the lamb on top. Carefully pour the water around the leg, then fold the paper tightly around the lamb, enclosing it like a package. Make sure the paper is completely sealed (a piece of butcher twine can help with this).
Roast for 8 hours. The lamb is done when the meat pulls away and is spoon tender. Serve right off the paper with a baguette to mop up the juices and extra mustard and tamarind kani sauce on the side.
To make the tamarind kani sauce
Heat the oil in a saucepan over medium-low heat. Cook the onion and garlic until soft and fragrant. Add the tomatoes, Scotch bonnet, and bay leaf. Simmer for 15 minutes, until thickened (add a little water if the sauce thickens too much or too quickly). Remove from heat and add the tamarind, fish sauce, salt, and pepper. Take out the bay leaf and discard. Purée in a food processor until smooth and store in the fridge for up to 3 weeks.
Before it's here, it's on the Bloomberg Terminal.
LEARN MORE