Commodity trader reports full-year profits on March 1

Stock up 42% this year as company pares $30 billion debt load
Glencore Plc's billionaire chief executive officer, Ivan Glasenberg, is having to trade his way out of a hole.
With profits from his mining division evaporating, the debt-laden commodity company's reliance on trading jumped to an unprecedented 76 percent of earnings in the first half of last year. Ongoing losses in mining mean that percentage is likely to increase when Glencore reports results next week.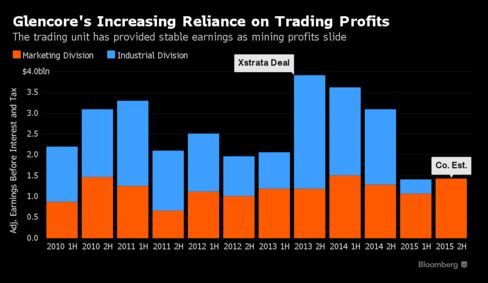 Investors will be hoping Glasenberg's 30 years of commodity-trading expertise will pay off as the company wrestles down its $30 billion debt load. While the 42 percent rebound in the stock so far this year indicates a debt-reduction plan announced in September is on track, the challenges presented by the rout in raw materials and China's slowing growth are far from over.
"The industrial assets are going to struggle to a degree in terms of generating super-revenue in a low commodity-price environment," Clive Burstow, who helps manage $35.2 billion at Baring Asset Management Ltd. in London, said by phone.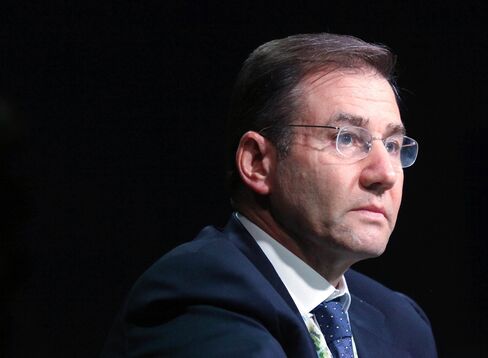 "But that's where the trading business, if it delivers what they've always said it can deliver, which is that differentiator, then it becomes more interesting," according to Burstow, who said he recently bought back into Glencore after last year's 70 percent share-price slump.
A spokesman for the company declined to comment.
The 2015 stock selloff prompted Glasenberg to enact a program to maintain the investment-grade credit rating, trimming its borrowings from $30 billion to $18 billion by the end of this year. He has already scrapped the dividend, sold $2.5 billion of new shares and is selling assets including a stake in its agricultural division.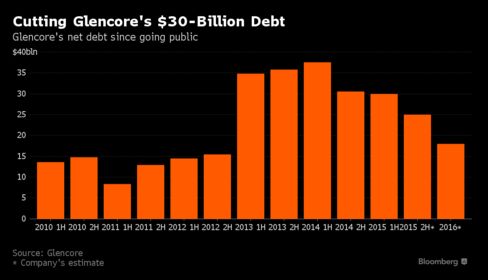 "They are doing exactly what they need to be doing," David Herro, chief investment officer of Chicago-based Harris Associates LP, said in a phone interview. Harris is now the second-biggest shareholder after moving to an 8.5 percent holding in recent weeks, overtaking Glasenberg's 8.4 percent position.
Glencore's trading arm, based in the sleepy Swiss village of Baar, sets it apart from many of its peers, which rely almost entirely on the extraction of minerals and energy. Its trading unit is the world's largest and most diverse, handling over 90 commodities including wheat, copper, sugar, oil and coal. Its roots trace back to the eponymous Marc Rich & Co. set up by the former U.S. fugitive in the 1970s.
CEO History
Glasenberg joined the firm on the coal desk in South Africa in the 80s and rose to become head of the division in 1991 after stints in Hong Kong, Shanghai and Australia. He was instrumental in a shift of strategy following a management buyout from Rich in 1994 that saw the Swiss company add more industrial assets to complement the trading arm. Its $29 billion all-share takeover of Xstrata Plc in 2013 added mines from Peru to New Caledonia.
"Marketing is what Glencore does best and the earnings stream is proven to be more resilient and far less cyclical than mining," Credit Suisse Group AG analysts including Liam Fitzpatrick, who advise buying the stock, wrote in a Feb. 25 report.
Glencore has traditionally boasted its trading arm can make money whether commodity prices are high or low. But estimating profits from the trading division is notoriously difficult. It's the only figure for which the company provides a forecast before the earnings announcement.
Dominant Trading
"It is a business that's less transparent," Marc Elliott, a mining analyst at Investec Plc in London who recommends selling the shares, said by phone. "In theory, the company should be predominantly industrial. Now trading is very much dominant, which is giving them protection."
In December, Glencore provided a specific estimate of $2.5 billion of adjusted earnings before interest and tax from the division for the year, a number outside of its long-term stated range of $2.7 billion to $3.7 billion. Citigroup Inc. estimates $2.56 billion from the division for 2015, while the industrial unit is forecast to report an adjusted loss before interest and tax of $124 million.
"Even with these weak commodity prices, the marketing hasn't been too bad this year," Glasenberg told investors and analysts at the time. "We're having a very good year in oil trading even though oil prices are low. It just depends upon refining margins, arbitrage opportunities that are out there. So it's not only dependent upon commodity prices."
Last year was one of the best years of all time for trading oil and gas, BP Plc Chief Financial Officer Brian Gilvary said this month. In contrast, business has been tough for most metals traders. Demand from China weakened and the Asian nation has flooded the world with aluminum.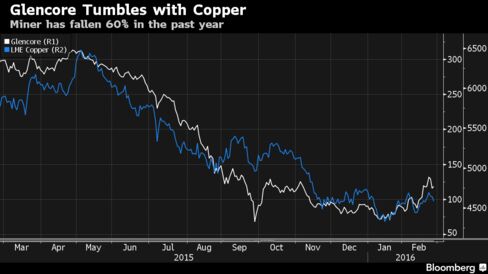 Noble Group, Asia's largest commodity trader, this week reported its first annual loss in almost two decades with its mining and metals division swinging to a loss of $229 million from profit of $282 million in 2014.
In December, Glencore signaled trading conditions would continue to be difficult in 2016 as it lowered its forecast for the second consecutive year to $2.4 billion to $2.7 billion. That makes the task of reducing costs and selling more assets all the more important for Glasenberg as he works to trim debt even further.
"Investors have bought into the positive news flow that's coming out of Glencore," Baring's Burstow said. "It now becomes about the next step of the message. There needs to be a clear message at the results about their view of how they will run this business in a low, but stable commodity price environment."
Glencore is scheduled to report 2015 results on March 1. Adjusted net income will fall 72 percent to $1.2 billion, according to the average estimate of 16 analysts surveyed by Bloomberg.
Peter Grauer, the chairman of Bloomberg LP, is a senior independent non-executive director at Glencore.
Before it's here, it's on the Bloomberg Terminal.
LEARN MORE