Erste Sees Loan Growth in Eastern Europe Supporting Dividend
Fourth-quarter profit beats estimates as bad debt shrinks

Austrian Bank plans to resume dividends with 50-cent payout
Erste Group Bank AG, Austria's biggest bank, projected profit will rise this year, allowing it to continue dividend payouts as loan growth resumes in eastern Europe.
Fourth-quarter net income rose to 204 million euros ($226 million) from 42 million euros a year earlier, driven by a sharp decline in provisions for bad debt in Romania, Hungary and Austria, the Vienna-based bank said in a statement on Friday. The average estimate of 18 analysts surveyed by Erste was 155 million euros.
"We have seen solid growth in lending, equally driven by the retail and corporate business," Chief Executive Officer Andreas Treichl said in the statement. "Our strong result allows us to do three things: continue to fund growth in our markets, strengthen our capital base and pay dividends."
Treichl, 63, is starting to reap rewards from a thorough balance-sheet clean-up in 2014. The third-biggest bank in eastern Europe after UniCredit SpA and Raiffeisen Bank International AG, Erste is now counting on a return to profit in Hungary and Romania adding to its profitable Czech and Slovak businesses.
Erste Dividend
Erste is proposing a dividend of 50 cents a share. The bank skipped the payout following a record loss in 2014. It had paid 20 cents per share for the 2013 business year.
The payout, and the promise to continue with it, is supported by the rise of Erste's fully-loaded common equity Tier 1 capital, the key gauge for a bank's financial strength, to 12 percent of risk-weighted assets in the final three months of 2015. The regulatory requirement imposed on Erste by the European Central Bank is 9.5 percent, to which Austria adds a rising systemic risk buffer over the next years, reaching 2 percent in 2019.
Erste is targeting as much as 11 percent return on tangible equity, which is equivalent to net income of about 1.05 billion euros, according to calculations by Bloomberg News. The average estimate for next year's net income is 1.12 billion euros.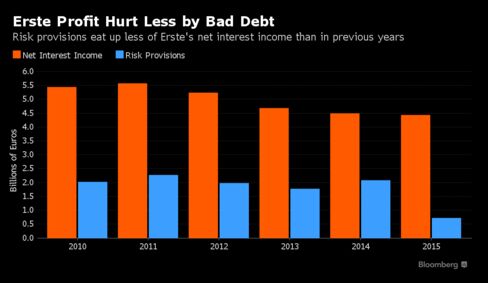 Bad loan provisions more than halved in the quarter, helping the full-year risk costs to fall by 65 percent, driven mostly by reductions in Romania and Hungary. The charges had eaten up between a third and half of Erste's net interest income every year from 2009 to 2014. Net interest income, Erste's most important revenue source, fell 1.1 percent as interest rates fell across the region.
Erste has been one of the best performers among euro-area bank shares this year. It has declined by 15 percent, compared with 24 percent for the 30-member Euro Stoxx Banks index. The stock was up 3 percent at 25.34 euros at 9:25 a.m. in Vienna, valuing the bank at 10.87 billion euros.
Before it's here, it's on the Bloomberg Terminal.
LEARN MORE