Buffett's One-Day Gain on Kraft Heinz Tops $800 Million: Chart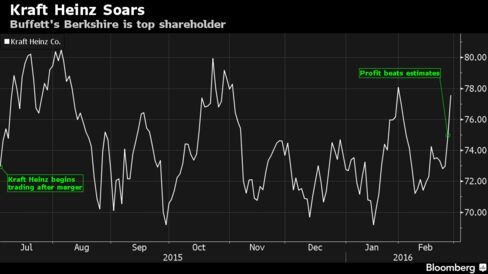 Warren Buffett's investment in Kraft Heinz Co. climbed by more than $800 million as the food company surged in New York trading after posting earnings late Thursday that beat analysts' estimates. The stake held by Buffett's Berkshire Hathaway Inc. was valued at more than $25 billion after Friday's rally. Buffett and 3G Capital created the company in July by orchestrating the merger of H.J. Heinz and Kraft Foods Group Inc. It is the largest equity holding at Berkshire, ahead of companies like Coca-Cola Co. and Wells Fargo & Co. that have long been associated with Buffett.
Before it's here, it's on the Bloomberg Terminal.
LEARN MORE