VIX Got Ahead of Itself Breaking 20 Based on Bond Hedge Cost
Ratio of VIX to CDS is close to lowest since September 2013

Hedge funds trimming bearish bets on the S&P 500 amid rally
With U.S. stocks fresh off their best week of the year, a signal from the bond market suggests investors have become too bullish, too quickly.
It's a comparison of hedging costs, specifically, where the Chicago Board Options Exchange Volatility Index has decreased to nearly the lowest level in 2 1/2 years relative to investment-grade credit-default swaps, data compiled by Bloomberg show. Hedge fund positions on U.S. stocks just saw the biggest two-week increase of 2016, data from the U.S. Commodity Futures Trading Commission show.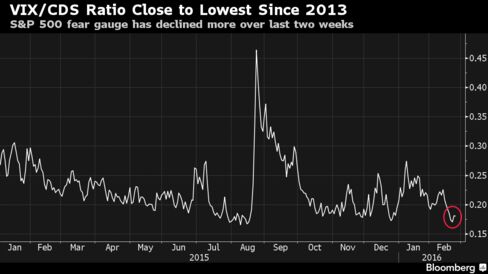 Equity investors have ignored the credit market at considerable risk over the past six months, as rising rates and widening spreads provided early warning of the selloff that battered stocks in late August. Bonds are flashing caution again after last week's share rally pushed the VIX below 20 for just the third time this year.
"Investors are thinking that after such a big drawdown to start the year there's potential for a short-term rally," Rebecca Cheong, the New York-based head of Americas equity derivatives strategy at UBS Securities LLC, said by phone. "While we did already see a technical rebound in U.S. stocks, the crack between equity and credit risk premiums points to investors getting overly bullish."
The S&P 500 has climbed 5.5 percent since Feb. 11, while the VIX slumped 26 percent. An index of investment-grade corporate bonds was little changed over the same period, while corresponding CDS prices declined just 8.1 percent. The benchmark slid 0.1 percent to 1,927.38 at 10:05 a.m. in New York.
To Cheong, the discrepancy between the two assets is unlikely to persist, and it's only a matter of time before the VIX rises to a more normal relationship. Gains in the VIX correlate with falling stocks about 80 percent of the time.
"Credit investors haven't turned as bullish yet," she said. "With cross-asset investors looking closely at both, we expect hedges to shift from credit to equities."
As equities jumped, large speculators trimmed bearish bets on the S&P 500 by 29 percent over the two weeks ended Feb. 16. Meanwhile, the ratio of the VIX to a Markit Ltd. index of investment-grade CDS securities fell to 0.171 on Monday, the lowest in six months. That's also just about four percent above a prior low reached in September 2013.
The ratio has slipped below 0.175 during three periods since July, according to data compiled by UBS. Each time, the S&P 500 either increased or stayed relatively flat before losing at least 3.8 percent over the following month, the data show.
Some traders, wary that stock market tranquility will be short-lived, are already positioning themselves for a VIX increase. A pair of exchange-traded notes that track the gauge saw combined inflows of $140 million over a five-day period ending Monday after losing almost $1 billion to start 2016. Hedge funds also hold more long bets on VIX futures that any time since September, CFTC data show.
"Investors got a little ahead of themselves," said Stephen Solaka, managing partner of Belmont Capital Group in Los Angeles, which oversees about $400 million. "It can be hot potato at times, and you'll often see them overreact in both directions. There's definitely still some fear in equities, but that's not showing up right now relative to credit."
Before it's here, it's on the Bloomberg Terminal.
LEARN MORE