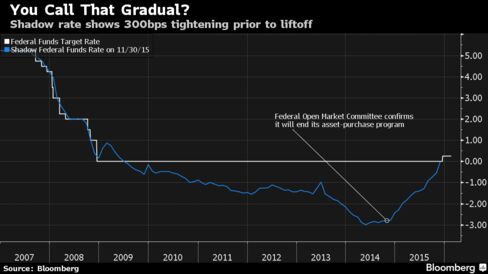 The Wu-Xia shadow federal funds rate has increased by 3 percentage points since the Federal Reserve confirmed that it would end its bond-buying program on Oct. 29, 2014. The Dow Jones Industrial Average and the Standard & Poor's 500 Index have decreased by 2.88 percent and 2.65 percent, respectively, over the same period. The measure is an estimate of what the federal funds rate would be if asset purchases and forward guidance were taken into account and if the federal funds rate could be negative.
— With assistance by Brandon Kochkodin
Before it's here, it's on the Bloomberg Terminal.
LEARN MORE