Thai Sugar Cane Crop Seen Dropping as Global Deficit to Persist
International Sugar Organization predicts bigger shortfall

El Nino affecting production from Brazil to India, Thailand
Drought is set to cut Thailand's sugar cane crop to the lowest in at least four years, curbing production of the sweetener as forecasts for a global deficit increase.
Cane output may fall below 100 million metric tons in 2015-16, Thai Sugar Millers Corp. said in a statement Thursday. It would be the first time below that level since 2011-12 and compares with 106 million tons last year. Sugar production in the first 91 days of the current season totaled 7.19 million tons from 8 million tons a year earlier, the millers said.
Raw sugar prices jumped 8.9 percent Tuesday amid forecasts for a production deficit in the current crop year and concerns El Nino will affect crops from Asia to Brazil. World output in the 2015-16 season will trail consumption by 5.02 million tons, compared with a November estimate for a 3.5 million-ton shortfall, the International Sugar Organization said this week. F.O. Licht GmbH predicts that the deficit will persist into next year.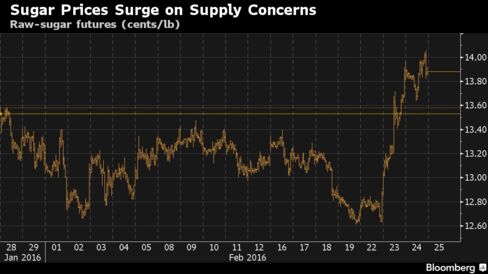 "Continued severe drought has reduced yields and deteriorated cane quality," Montri Vissanupornprasit, secretary general of the North Eastern Sugar Cane Planters Federation, says by phone from Nakhon Ratchasima province. "Cane crushing this year may end about two weeks earlier than last year, possibly cutting overall output to as low as 95 million tons."
The global sugar deficit will total 6.5 million tons in 2015-16, up from a previous estimate of 5.2 million tons, as the outlook for production in Thailand and India deteriorates, F.O. Licht senior commodity analyst Stefan Uhlenbrock said in Bangkok Wednesday. The shortfall will be 1.5 million tons in 2016-17, he said.
Rabobank International said this week it now expects a bigger deficit than the 4.7 million tons it previously forecast
Last week, INTL FCStone Inc. raised its deficit forecast to 7 million tons.
Raw sugar for May delivery declined 1 percent to 13.74 cents a pound on ICE Futures U.S. in New York. Prices have surged 8.5 percent this week, trimming this year's decline to 9.8 percent.
Before it's here, it's on the Bloomberg Terminal.
LEARN MORE