Slump in U.S. Manufacturing May Be Easing as Orders Increase
Demand for capital equipment rebounds from two-year low

Increase in bookings was broad-based following December plunge
The slump in U.S. manufacturing is showing signs of abating.
Orders for capital equipment, a harbinger of business spending on such things as machinery and computers, jumped in January after plunging to a more than two-year low at the end of 2015, figures from the Commerce Department showed Thursday in Washington. The broad-based 3.9 percent gain, which was the biggest since mid-2014, eases concern that factories were in full retreat.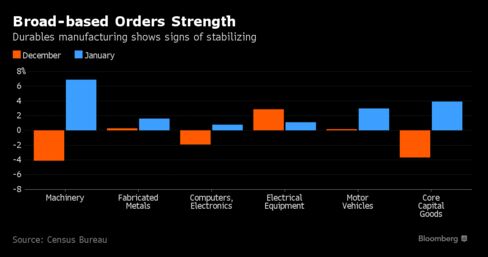 While these bookings tend to be volatile, the message over past two months is that manufacturing is stabilizing at weak levels after a strong dollar and slower growth abroad hurt exports and the plunge in oil prices curbed spending on wells and oil rigs in the U.S. The report also corroborated recent, more upbeat, production and employment figures that had been called into question as surveys showed confidence among factory managers was sinking.
"It's good to see the data aren't in free-fall," said Michael Feroli, chief U.S. economist at JPMorgan Chase & Co. in New York. "Business investment could go back to positive in the first quarter."
Orders for all durable goods climbed 4.9 percent in January after falling 4.6 percent the prior month, according to the Commerce Department report.
But the focus in these data is usually on the narrower capital-equipment category that excludes notoriously volatile demand for military gear and commercial airplanes. And by that measure, Thursday's news was a welcome relief following a 3.7 percent drop in December.
Corroborating Data
Other reports had recently alluded to improvement in manufacturing. Factory output climbed in January by the most in six months, boosted by production of consumer goods, according to Federal Reserve data last week. The latest employment report also showed manufacturing payrolls climbed by 29,000 workers last month, the strongest advance since November 2014, and their average workweek lengthened.
While those figures were met with some skepticism as national and regional surveys of factory managers continued to drop, the rebound in goods orders last month was reassuring.
"This is encouraging evidence suggesting that manufacturing activity is not tumbling off a cliff," Bloomberg Intelligence economists Carl Riccadonna and Richard Yamarone wrote in a research note. It "helps to explain the divergence between the hard data, such as manufacturing output and employment, versus the production surveys, which can take on an element of a sentiment survey -- particularly during periods of market stress."
Services Weaken
Stabilization in manufacturing would come at a fortuitous time as other reports have signaled services, which make up the lion's share of the U.S. economy, are getting pinched. The Markit Economics preliminary purchasing managers' services index for February slumped to the lowest level since the partial government shutdown in October 2013, a report from the London-based group showed Wednesday. It was the second-weakest reading in data going back to October 2009.
A sustained slowdown in services would jeopardize forecasts that the economy will strengthen this quarter after almost stalling out at the end of 2015. Commerce Department figures Friday are projected to show gross domestic product grew at a 0.4 percent annualized rate from October through December, the weakest reading in almost two years. Economists surveyed by Bloomberg forecast a 2 percent rate of growth this quarter.
Before it's here, it's on the Bloomberg Terminal.
LEARN MORE