Department-store chain has continued to post declining sales

Fairholme fund manager Bruce Berkowitz named to board
Sears Holdings Corp., the department-store operator run by hedge fund manager Edward Lampert, posted a $580 million fourth-quarter net loss as sales continued to slide.
The loss compared with a $159 million net loss a year earlier, the Hoffman Estates, Illinois-based company said in a statement Thursday. On an adjusted basis, before interest, taxes, depreciation and amortization, the loss was $82 million, within the $50 million to $100 million range Sears provided this month. The company also named Bruce Berkowitz, its second-biggest shareholder, to the board.
Lampert has been shrinking down the once-mighty retailer as its cash dwindles. He's sold and spun off assets, including some of its best real estate, and invested heavily in Sears's online and rewards programs. But that hasn't halted the decline in sales at stores open at least a year, considered a key gauge of retail performance. The company's cash balances were $238 million at the end of the quarter on Jan. 30, down from $250 million a year earlier.
"They've not maintained relevance with the consumer, who's voting with their feet and shopping elsewhere," said Matt McGinley, an analyst at Evercore ISI. The means the company will continue burning through cash "at horrendous rates" to fund its operations.
Sears's stock has lost about half its value over the past year. It rose 3.2 percent to $17.52 at the close in New York on Thursday.
Sears domestic comparable store sales dropped 6.9 percent in the quarter, while sales at the company's Kmart chain slid 7.2 percent.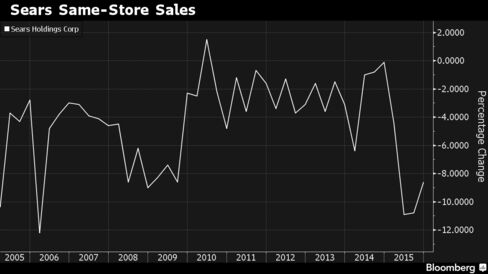 In a letter to shareholders, Lampert said that Sears "needs to accelerate our efforts" to boost performance. "Our transformation efforts continue, albeit impacted by our poor operating results," he said.
Sears is planning at least $300 million in asset sales in the first half of the fiscal year. It will eliminate as much as $650 million in expenses over the course of the year.
"Unfortunately for Sears, the cash generated from asset sales and borrowing is only funding the continued losses, despite their assertions to the contrary," McGinley said. "Things are not getting better operationally, they are actually getting worse. I just don't see any sustainable path to improvement that will stop these enormous cash operating losses."
Apparel Woes
Clothing dragged down results, partly because of unusually warm weather. Lampert said the company's apparel business "needs significant improvement" and will be a priority this year.
In addition to naming Berkowitz as a director, Sears's board will add Alesia Haas, former chief financial officer at OneWest Bank Group LLC.
Berkowitz's Fairholme Capital Management, which had long been a passive investor, submitted a regulatory filing in December that said it planned to communicate with executives. It has held Sears stock for more than a decade.
Fairholme owns more than 25 percent of the company's stock, as well as other Sears securities, Berkowitz said on an investor call Tuesday. He met with the retailer's board last month.
"I focused on the cash burn, and how the continuation of the cash burn does not build confidence or trust among all of Sears's constituencies," he said.
Asked if his investment had been worthwhile, he said, "I don't know yet. If the company is able to return to profitability this year, then I'd say, 'Yeah, it is.' The facts tell us that we own valuable assets at historic discounts."
Costly Investments
The retailer's investments in technology and loyalty programs have been costly, but should become less of a drag, Berkowitz said.
"A considerable portion of the past cash burn has been voluntary," he said. "I believe much of the heavy lifting is over, and those expenses should decline."
Berkowitz said Sears managers seemed receptive.
"I did not sense any disagreement among the board with any of the points that I raised," he said. "I left with the sense that there appears to be a sense of urgency in these matters."
Before it's here, it's on the Bloomberg Terminal.
LEARN MORE