Osborne Seeks Support at G-20 Meeting to Keep U.K. in EU
`Brexit' raised in talks with Chinese officials, person says

Leaving EU would be `profound economic shock,' chancellor says
Chancellor of the Exchequer George Osborne is seeking to rally international finance chiefs to the campaign to keep Britain in the European Union.
A two-day meeting in Shanghai of finance ministers and central bankers from the Group of 20 nations that started Friday offers Osborne the opportunity to drum up foreign endorsements as Prime Minister David Cameron puts the economy at the center of his case for staying in the bloc.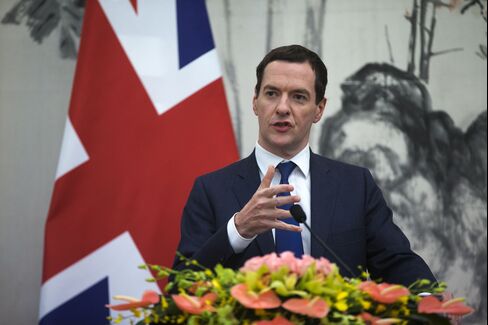 The topic of so-called Brexit was already raised when Osborne met Chinese government officials in Beijing on Thursday, according to an official who asked not to be named because the talks were private. Among those he met was Vice Premier Ma Kai.
"This is about people's jobs and their livelihoods and their living standards," Osborne said in a BBC Television interview in Shanghai. "In my judgment as chancellor, leaving the EU would represent a profound economic shock for our country, for all of us, and I'm going to do everything I can to prevent that happening."
Aside from eliciting statements of support from individual counterparts, one option for Osborne is to try to secure a line in the G-20's final communique, which is scheduled for release on Saturday. That would allow him to argue that remaining in the 28-nation bloc was important to policy makers running the world economy.
Lagarde Backing
The International Monetary Fund signaled it backed the government this week when Managing Director Christine Lagarde said withdrawal from the EU would be "negative on all fronts" and that uncertainty in the run-up to the June 23 referendum "is bad in and of itself."
In his BBC interview, Osborne noted the market anxiety surrounding the pound, which is heading for its worst week in almost six years. Concern the U.K. may leave the European Union pushed sterling to its lowest level since 2009.
Still, St. Louis Federal Reserve President James Bullard told CNBC on Thursday that "it doesn't really matter for the U.S. whether the U.K. is in or out." The Brexit campaign also received a boost Friday when former Conservative leader Michael Howard said Britain should quit the EU.
Hopes Dashed
Writing in the Daily Telegraph newspaper, Howard said he had hoped Cameron might achieve "fundamental reform" when the prime minister embarked on his renegotiation of Britain's relationship with the EU.
"It is not his fault that those efforts met with failure," Howard wrote. "It is the fault of those EU leaders so mesmerized by their outdated ambition to create a country called Europe that they cannot contemplate any loosening of the ties which bind member states. There is only one thing that just might shake Europe's leaders out of their complacency: the shock of a vote by the British people to leave."
QuickTake Will Britain Leave the EU?
Most online opinion polls continue to be inconclusive, with a BMG online survey for London's Evening Standard newspaper published Thursday showing "Remain" ahead of "Leave" by 44 percent to 41 percent, with 15 percent undecided. Two recent phone surveys, by contrast, have shown double-digit leads for staying in.
Cameron's campaign has already received the backing of international business with the chief executive officers of Japan's Nissan Motor Co., Bayer AG of Germany and France's AXA SA among those to publicly recommend that Britons stay inside the region.
Osborne has used meetings of international counterparts before to score domestic points. Before last May's election he enlisted Lagarde and German Finance Minister Wolfgang Schaeuble in a presentation in Washington to back his austerity drive.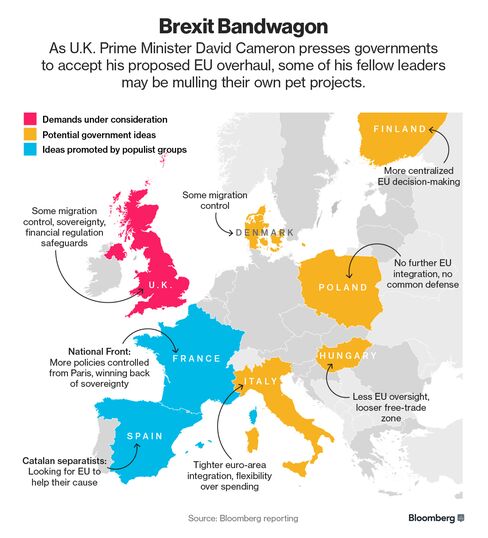 Before it's here, it's on the Bloomberg Terminal.
LEARN MORE