Nikkei 225 in `Eerie' Parallel to Lehman Prelude in 2008: Chart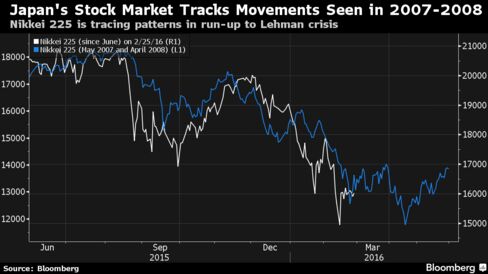 Japan's Nikkei 225 gauge is tracing chart patterns seen in the 12 months through April 2008. A series of Federal Reserve rate cuts that began in September 2007 appeared too late, Norihiro Fujito, a strategist at Mitsubishi UFJ Morgan Stanley Securities, says in an interview today. The Nikkei fell 36% in the remaining eight months of 2008. The "eerie" parallel is unnerving, and may continue should U.S. and Japanese policy makers take the wrong actions, he said, referring to the recent Fed rate hike and a planned increase in Japan's consumption tax.
Before it's here, it's on the Bloomberg Terminal.
LEARN MORE