Japan CPI Doesn't Budge in January With BOJ Far From 2% Goal
`There is not much momentum in the economy to push up prices'

The stronger yen creates deflationary pressures for Japan
The Bank of Japan's key price gauge didn't move in January as it continued to hover around zero, putting Governor Haruhiko Kuroda far from his 2 percent inflation goal even after adopting a negative-rate policy.
Low energy prices are disrupting Kuroda's efforts to reach his inflation target, with some economists forecasting further monetary easing next month just weeks after the negative-rate policy announcement. Even after taking out the oil factor, recent economic data have indicated that Japan's economy has little momentum as its outlook has been dimmed by a market rout and China's slowdown.
The key numbers for January:
CPI 0.0%, versus 0.0% estimate
CPI excluding fresh food 0.0%, versus 0.0% estimate
CPI excluding food and energy +0.7%, versus 0.7% estimate


"There is not much momentum in the economy to push up prices," said Takeshi Minami, the chief economist at Norinchukin Research Institute, who had predicted core CPI would be unchanged. "The bad news is that the prospects for inflation have worsened with yen gains, weak consumer spending and the economy overall."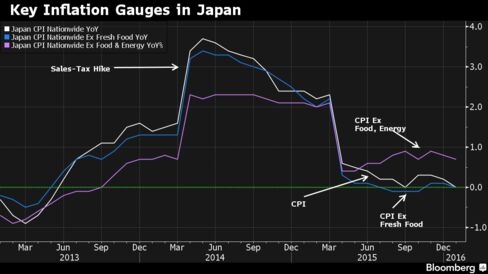 SMBC Nikko Securities Inc.'s Junichi Makino forecasts that consumer prices excluding fresh food could drop as low as minus 0.8 percent toward summer, dragged down by oil prices. He thinks the BOJ will have to consider adding to stimulus as soon as next month.
The yen gained 6.3 percent this year, the most among major currencies, as demand for safe assets increased amid global market turmoil. A stronger yen creates deflationary pressures through lower-cost imports and reduces corporate profits overseas when repatriated.
Sadayuki Sakakibara, head of Keidanren, Japan's biggest business lobby, said the current yen level would hurt corporate earnings, Nikkei reported Wednesday by citing his comments at a press conference.
GDP Shrinks
Japan's economy contracted an annualized 1.4 percent in the final three months of last year, losing momentum even before the global market turmoil this year. Exports in January dropped the most since 2009.
"We will carefully watch how moves in financial markets will affect Japan's real economy," Kuroda said on Wednesday in parliament. "We won't to hesitate to respond" if needed.
The price of Dubai crude oil, the measure of oil BOJ board members use for their price outlook, has dropped by half from a year earlier as of Wednesday.
Before it's here, it's on the Bloomberg Terminal.
LEARN MORE