Citigroup, Merrill Lynch cut forecasts to below end-2015 level

Strategists still predicting advance for rest of the year
The worst start to a year on record has even bullish strategists predicting Japanese stocks' first annual decline in five years.
Citigroup Inc. and Bank of America Corp.'s Merrill Lynch unit cut their year-end forecasts for the Topix index this month to below where the measure ended 2015, while Goldman Sachs Group Inc. lowered its 12-month target. The benchmark gauge is down 15 percent in 2016 as concerns over China, tumbling oil prices and a strengthening yen even after the central bank moved to negative interest rates weigh on the nation's companies.
"I thought that negative rates would at least reduce the pressure on the yen to gain," Naoki Iizuka, chief Japan equity strategist at Citigroup in Tokyo, said by phone. "Sadly, global risk-off moves have been too strong, the outlook for U.S. monetary policy has changed, and we haven't seen the good effects on the yen that we hoped for."
That's bad news for Prime Minister Shinzo Abe before his party goes to the polls this year, given that he's anointed the stock market as one of the most important mechanisms for economic revival. The country is considering an additional budget of about 5 trillion yen ($44.4 billion) to stimulate the economy ahead of summer elections for the upper house of parliament, TV Asahi reported on Thursday.
Still, the lowered forecasts don't mean analysts have lost their optimism. Even after trimming their predictions, Citigroup and Merrill Lynch expect the Topix to rise at least 14 percent this year.
The equity gauge plunged 9.4 percent in the first six trading days of 2016 for the biggest drop to start a year on record. It entered a bear market on Jan. 20. By Feb. 12 it had lost 23 percent in 2016 as the yen unexpectedly touched the highest in almost 16 months and lenders' shares tumbled after the Bank of Japan said it would join Europe's central bank and some of its countries in adopting interest rates below zero.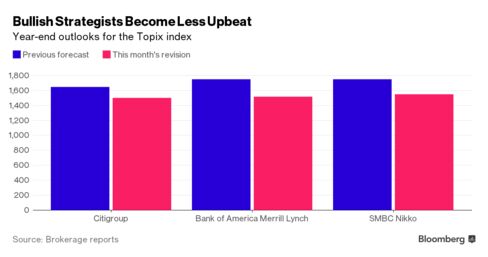 Strategists led by Iizuka at Citigroup cut their Topix year-end target to 1,500 from 1,650 in a report dated Feb. 22. That means the brokerage projects a 3.1 percent decline for the Topix in 2016. They also said they expect the yen to trade at 112 per dollar on average in the year ending March 2017 after previously assuming 122. The wildest stock swings since the March 2011 earthquake have been putting off money managers including BlackRock Inc.'s Dan Chamby.
With high volatility becoming a "feature of the Japanese market, it may not be a place where global investors feel completely at home," Citigroup's report said.
Fed, Earnings
Merrill Lynch lowered its year-end Topix target to 1,520 from 1,750 on Feb. 22, which implies a 1.8 percent drop in 2016, citing the slower-than-expected pace of Federal Reserve interest-rate increases, which would suggest a stronger yen, and weaker quarterly earnings. Merrill Lynch also revised its yen assumption to 115 from 125 per dollar.
"Earnings were weaker than expected, and the pace of margin growth, in particular, has slowed," Kenji Abe, chief equity strategist at Merrill Lynch in Tokyo, said by phone.
Strategists led by Kathy Matsui at Goldman Sachs lowered their 12-month target for the Topix to 1,600 from 1,800 in a report dated Feb. 9. SMBC Nikko Securities Inc. reduced its year-end forecast to 1,550 from 1,750.
Still, there are signs of a rebound in Japanese shares and the strategists are positive. The Topix is up 9.6 percent since Feb. 12. Citigroup's new forecast implies a 14 percent gain by year-end. Merrill sees a 16 percent advance, while SMBC Nikko expects a 18 percent increase. Merrill's Abe predicts a rebound in commodity prices and a stronger U.S. economy in the second half of the year.
"We've lowered our forecast but we still see a significant rise from now," Abe said. "I expect further monetary stimulus and higher valuations. The level I'm forecasting is still high."
Before it's here, it's on the Bloomberg Terminal.
LEARN MORE