What's in Warren Buffett's Letters: Bible Heroes, Naked Swimmers and Roaches
Warren Buffett loves an audience.
The 85-year-old billionaire considers himself a teacher, spreading his wisdom beyond Wall Street with wit and charm. For decades, the Berkshire Hathaway Inc. chairman has published annual letters to shareholders and, if the past is any guide, his next one Saturday will include references to everyday topics such as baseball, country music or the Bible, as well as some colorful analogies.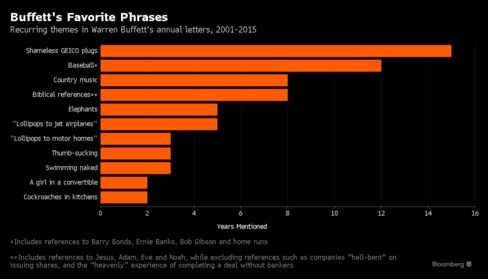 Last year, Buffett repeated a mention of bugs to make a point about how one nasty surprise at a company is often a sign that others are hiding nearby:
"In the world of business, bad news often surfaces serially," he wrote. "You see a cockroach in your kitchen; as the days go by, you meet his relatives."
Another favorite, used most recently in 2011, offered a new take on one of Aesop's sayings. Buffett revised the "bird in the hand" phrase when explaining how it was frustrating to wait for higher interest rates, and that his preference would be to find a new opportunity to invest cash:
"That day can't come too soon for me," Buffett wrote. "To update Aesop, a girl in a convertible is worth five in the phone book."
He also writes about how risky decisions can evade detection during market bubbles, but not forever:
"As house prices fall, a huge amount of financial folly is being exposed," he wrote in 2008. "You only learn who has been swimming naked when the tide goes out – and what we are witnessing at some of our largest financial institutions is an ugly sight."
The letters are often a chance for Buffett to highlight some of his favorite Berkshire businesses, such as luxury-aircraft company NetJets and See's Candies, which makes lollipops. It's a pretty sure bet that there will be a shout-out this year to car insurer Geico and instructions for investors to sign up for policies at Berkshire's annual meeting.
Be Fruitful
Buffett shed light on the growth of See's in 2008 with a reference to the Bible, one of many nods to the holy book over the years:
"Just as Adam and Eve kick-started an activity that led to six billion humans, See's has given birth to multiple new streams of cash for us," he wrote. "The biblical command to 'be fruitful and multiply' is one we take seriously at Berkshire."