AB InBev Earnings Miss Analysts' Estimates as Big Brands Lag
Budweiser and Bud Light both lose market share in U.S.

CEO Brito says he's more excited about buying SABMiller
Anheuser-Busch InBev NV's fourth-quarter profit missed estimates despite increased advertising and an improving U.S. beer market, underlining the need for the brewer to complete its deal for SABMiller Plc to tap new areas of growth.
Adjusted operating income rose 6.6 percent on an organic basis to $4.31 billion, the company said in a statement Thursday. Analysts expected a 9.2 percent gain. The shares fell 1.7 percent to 102 euros as of 4:21 p.m. in Brussels.
Budweiser and Bud Light lost share in the U.S. even as that market eked out growth in the fourth quarter after declining in the first nine months of 2015. Sales to U.S. retailers fell 1.1 percent, which sent profits in that region plummeting 7 percent. The market should improve this year, the brewer forecast.
"It's not where we want to be," Chief Financial Officer Felipe Dutra said on a call with reporters.
AB InBev has acquired craft beer brands as demand for mainstream beer dries up. Some of those brands have the potential to be distributed internationally, Chief Executive Officer Carlos Brito said on the call with investors.
"These were slightly disappointing results," James Edwardes Jones, an analyst at RBC, said in a note.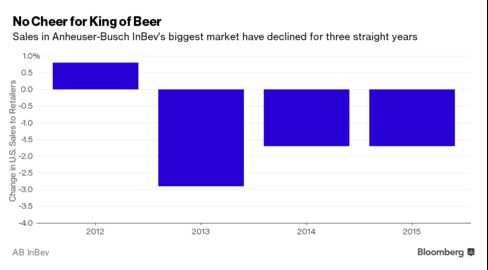 Brito said he's "more excited" about SABMiller than he was when the Budweiser maker agreed to the $100 billion takeover in November given its recent performance. The acquisition target reported sales that beat analysts' estimates in January. AB InBev expects to extract about $1.4 billion of cost savings from combining with SABMiller, which is strong in Africa and Latin America.
Sales and marketing investments are expected to grow between 8 percent and 12 percent this year, after a 9.4 percent boost in 2015.
AB InBev expects an improvement in Bud Light thanks to new packaging and a Super Bowl ad featuring actors Seth Rogen and Amy Schumer running a mock presidential campaign, Brito also said.
Brazil will have a weak first quarter and full-year revenue there should rise by mid- to high-single digits this year. AB InBev also forecast it will outperform the market in China, where volume will remain under pressure.
(A previous version of this story was updated to correct the revenue forecast.)