`Brexit' Seen Tripling the Chance of U.K. Falling Into Recession
40% chance of recession if `leave' campaign prevails

Main transmission channels seen as investment, confidence
Fancy another recession? Economists say voting to leave the European Union would dramatically increase the U.K.'s chances of heading down that road.
As Britons contemplate their place in the 28-nation bloc before June's referendum, respondents to a Bloomberg survey said the probability of a slump spikes to 40 percent in the event of an "out" vote. That compares with just a 13 percent risk predicted in the most recent monthly poll.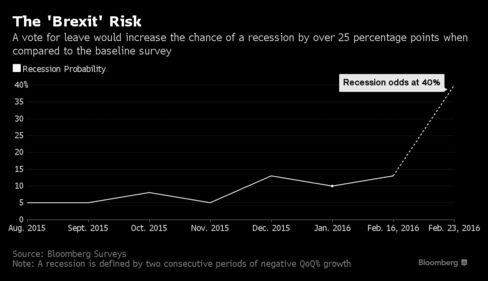 With the EU debate covering everything from immigration to loss of sovereignty and access to trade, those campaigning for Britain to stay argue that an exit would jeopardize investment, jobs and growth. While the economy has more than regained ground lost in the 2008-2009 recession, that took four years and included a period where unemployment jumped to a 16-year high.
"You would have a lot of uncertainty effects which would materially drag on growth," said Chris Hare, an economist at Investec Plc in London who previously worked at the Bank of England. "It's pretty likely that we'll see volatility in financial markets, possibly a tightening in U.K. credit conditions, a hit to business and household confidence and all those things combined should drag on the economy."
QuickTake Will Britain Leave the EU?
Prime Minister David Cameron will lead Britons to the polls on June 23. He, and others arguing to remain part of the bloc, say an exit would cut trade opportunities and diminish London's role as an international hub for business and finance. Those wanting to quit say the U.K. would be better off free from the EU's power to regulate businesses and requirements to accept European immigrants.
Tense Debate
How the vote pans out remains to be seen. Recent polls have shown a wide divergence, with YouGov on Feb. 23 giving the "leave" side a 1 percentage-point lead, just a day after a ComRes survey put "remain" 12 points ahead. The prospect of self-inflicted damage to the economy gives Cameron a possible weapon against 'Brexit' advocates such as London Mayor Boris Johnson, a member of the prime minister's party who came out in favor of the "leave" campaign last weekend.
At their February policy meeting, Bank of England Governor Mark Carney and fellow officials said the referendum could be a "downside risk to near-term business spending." Data on Thursday showed that business investment fell the most in almost two years in the fourth quarter of 2015.
BOE Deputy Governor Jon Cunliffe said on Wednesday that policy makers must be alert to risks. He said the central bank has a range of tools and "should be ready to use them whichever risk materializes."
The prospect of Britain leaving the world's largest single market is piling pressure on the pound, which fell below $1.39 on Wednesday, to the lowest level since 2009. It was at $1.3958 at 12:05 p.m. London time.
According to the Bloomberg survey, 29 of the 34 economists see the currency sinking to $1.35 or below within a week of a vote to leave -- levels last seen in 1985.
Rob Carnell, chief international economist at ING Bank NV in London, said an exit would be a "net negative for the U.K."
"The biggest channel would be investment, much reduced foreign investment flows, and lower general domestic investment," he said. "Companies certainly wouldn't be embarking on an expensive investment program and that uncertainty would transfer quite quickly. We might not go into recession but it certainly increases the probability."
Before it's here, it's on the Bloomberg Terminal.
LEARN MORE