Syria, Russia Pound Islamic State Ahead of Scheduled Truce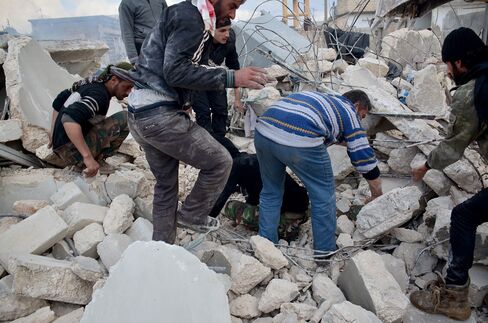 Road links government-controlled territory in various areas

Kerry warns that Syria will splinter if Assad stays in power
Russian and Syrian warplanes pounded Islamic State positions near Aleppo on Wednesday, a group monitoring the conflict said, trying to regain access to a strategic road whose fall to the militant group set back the allies' advances before a scheduled truce.
Islamic State has tightened its grip on the Syrian military's only land route to Aleppo, the country's largest city, according to the the U.K.-based Syrian Observatory for Human Rights, which monitors the fighting through a network of activists on the ground. The militants also control at least 12 hilltops near the town of Khanaser, which they captured on Tuesday, and on the road linking Khanaser to Aleppo, it said. The route connects government-controlled territory in northwest, central and western Syria.
The bombing campaign comes ahead of a limited cease-fire brokered by the U.S. and Russia due to take effect on Feb. 27, though the exclusion of Islamic State and other militant groups from the pact has dimmed expectations of a reduction in fighting. Turkey's Deputy Prime Minister Numan Kurtulmus warned of a widening war drawing in the major powers and their allies more deeply.
"If a humanitarian solution can't be found to the problem in Syria and peace doesn't prevail to everyone's satisfaction, then the proxy war will end, with these countries directly becoming sides to the war," he said in a speech in Istanbul on Wednesday.
An estimated 270,000 Syrians have been killed and more than half of the country's 23 million people have been displaced in five years of fighting. The violence sent hundreds of thousands fleeing to Europe last year alone, prompting heated debate the region's open-border policy. The United Nations said it had been able to air drop aid to besieged areas for the first time.
http://www.bloomberg.com/graphics/2016-syria-puzzle?v2
Deeper Involvement
Reaching a cease-fire has become even more urgent amid concerns that Turkey and Saudi Arabia will become more heavily engaged. While Russia and Iran are backing Assad, Turkey and Saudi Arabia are part of a U.S.-led coalition supporting various rebel groups, including some radical Islamists. Islamic State and other groups the UN lists as terrorists are excluded from the truce deal.
Islamic State violence in Syria has surged since Russia joined the war on President Bashar al-Assad's behalf in September, IHS Jane's said in a report released on Wednesday.
President Barack Obama said in Washington Wednesday that "we are very cautious about raising expectations" over efforts to achieve an accord in Syria. But he said there are some signs of progress toward an agreement that would let all parties focus on defeating Islamic State.
"This is the one way that we can end this war," Secretary of State John Kerry told a U.S. House panel Wednesday. "The alternative is that the war gets worse." On Tuesday, Kerry told a Senate panel that it may be too late to keep Syria whole unless progress is made within two or three months toward a government that doesn't include Assad.
Condemnation

Syria condemned Kerry's remarks on the risk of partition in Syria, saying they obscured his country's responsibility for the crimes committed against Syria by "terrorist groups," state-run SANA news agency said, citing an unnamed official at the Foreign Ministry. Assad has called for parliamentary elections on April 13, signaling that he has no intention of loosening his grip on power.
Implementing the U.S.-Russia cease-fire plan is a Kremlin priority, and it's "premature" to discuss any other plans now, President Vladimir Putin's spokesman Dmitry Peskov told reporters on conference call.
Putin also discussed the cease-fire plan with his Iranian counterpart Hassan Rouhani by phone, with both stressing the importance of joint efforts to end the Syria crisis, according to an e-mailed statement from the Kremlin.
Before it's here, it's on the Bloomberg Terminal.
LEARN MORE