Standard Chartered's Bad Loan Charges Surpass HSBC's: Chart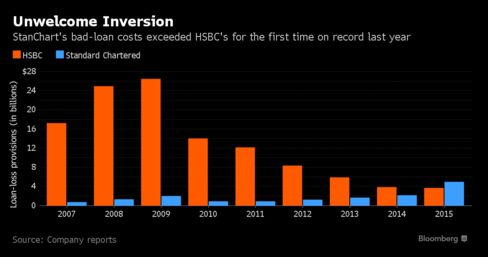 How big of a challenge faces Standard Chartered Plc Chief Executive Officer Bill Winters? His bank took a bigger hit on bad debt last year than HSBC Holdings Plc, despite HSBC having three-and-a-half times as many loans on its balance sheet. While both banks suffered from a slowdown in Asian markets and a drop in commodity prices, Standard Chartered reported $5 billion of provisions against bad loans in 2015, much of that from loans it made in previous years that the lender now views as too risky. That total surpassed HSBC's $3.7 billion for the first time on record.
Before it's here, it's on the Bloomberg Terminal.
LEARN MORE