U.S. same-store gain lags Home Depot by 3.4 percentage points

Chain's revenue tops estimates, while profit meets projections
Location. Location. Location. It's one of the oldest maxims in real estate, and it rings true for retailers as well. Just ask Lowe's Cos.
The home-improvement chain has been posting solid results as it rides the yearslong housing rebound. But its growth hasn't quite matched larger rival Home Depot Inc., and investors have noticed.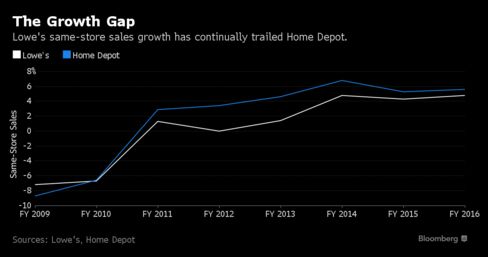 One key reason is that Home Depot was quicker to expand into the Northeast and urban areas, while Lowe's is still in the midst of building out its presence in major cities like New York. Home Depot's location advantage was especially helpful during this warm winter because homeowners in colder climates could take on more outdoor projects than usual. That helped Home Depot's same-store sales gain 8.6 percent in December, while Lowe's posted a 7.3 percent gain.
"Our footprint, where our stores are, doesn't exactly match up with where Home Depot's footprint is," Lowe's Chief Executive Officer Robert Niblock said in an interview. "They have more stores in the Northeast than we do. If you think about the mild winter and the delta between a normal winter and what we saw this year, probably some of the biggest difference between those was in the Northeast."
Lowe's on Wednesday reported a fourth-quarter sales increase of 5.6 percent, which topped analysts' estimates. Profit of 59 cents a share matched expectations. The chain also said it will earn $4 a share in the current year. Analysts projected $3.96. Revenue will increase about 6 percent, topping estimates of 4.5 percent.
Shares Rally
After being down for most of the day, Lowe's shares rebounded, gaining 1.1 percent to $68.62 at the close in New York. The shares have fallen 9.8 percent this year, compared with a 5 percent drop for Home Depot.
On Tuesday, Home Depot reported fourth-quarter results that boosted its shares, with sales and profit both topping expectations.
The spread between Lowe's and Home Depot's U.S. same-store sales was even wider. Lowe's increased revenue by that measure by 5.5 percent, compared with an 8.9 percent gain for its rival.
Home Depot's location advantage has been exaggerated by the fact that the Northeast and urban markets have seen the biggest run-up in home values, which encourages owners to invest more in their properties.
Denser Markets
"Home Depot is more exposed to denser, East Coast markets," said David Schick, an analyst at Stifel Financial Corp. "That's still where the most home-price appreciation has occurred over the past five years."
Both Lowe's and Home Depot have benefited from rising home values. Housing prices in the 20 cities measured by the S&P/Case-Shiller index of property values increased 5.7 percent from a year earlier in the 12 months through December. The median projection of 27 economists surveyed by Bloomberg called for a 5.8 percent advance. Nationally, prices rose 5.4 percent year-over-year.
Niblock expects the home-improvement market to remain strong, with the U.S. economy creating jobs, incomes rising and housing values continuing to increase. Plus, shoppers have kept spending on their properties despite volatile swings in the stock market and worries about economies overseas, he said.
"Even in a period where we've had some disruptions in the financial markets and in the global geopolitical arena, the consumer has hung in there pretty well," Niblock said. "It gives you pretty good confidence as we head into 2016."
Before it's here, it's on the Bloomberg Terminal.
LEARN MORE