Respondents place London above New York, Paris and Hong Kong

EEF to warn of `abyss of uncertainty and risk' outside the EU
London draws its greatest strength from Britain's European Union membership, giving it more international reach than New York, Hong Kong and Paris, a survey of executives in the U.K. capital found.
Three-quarters of businesses have customers and almost two-thirds have suppliers in other EU countries, the joint survey of more than 200 business leaders by the Confederation of British industry and CBRE Group showed. Eighty-three percent of respondents rated London as more of an international hub than New York, Hong Kong, Paris or Tokyo.
The poll published Wednesday provides a boost for Prime Minister David Cameron as he campaigns to keep Britain in the EU in the June 23 referendum. It comes a day after 36 leaders of the 100 biggest U.K. companies signed a letter saying staying in would be best for the economy. Polls show the outcome of the referendum is hard to call and sterling plunged this week after the charismatic mayor of London, Boris Johnson, threw his weight behind the campaign to withdraw from the EU.
"Keeping London ahead of our global competitors will be a top priority for the capital's businesses," CBI London Director Lucy Haynes said in a statement. "Access to the European single market of 500 million consumers is obviously a major boon to London's firms, and this survey shows the strong desire of the capital's firms to remain in a reformed EU." The poll was carried out between Dec. 21 and Jan. 15.
'Whipping Post'
Cameron will receive the endorsement of another business group on Wednesday, when the head of the EEF will warn of an "abyss of uncertainty and risk" if Britain leaves the EU.
"The EU is a useful whipping post for populists but the facts of our economic lives in Britain are European," Martin Temple will tell an audience of business leaders, according to extracts released by the manufacturing lobby as it prepares to hold its annual conference. "The job of our elected politicians is to commit themselves to using the power and influence they have to make it work better, rather than make excuses about the limitations they face and simply giving up."
A poll published Monday found 61 percent of EEF members want Britain to stay in the EU, while just 5 percent support a so-called Brexit.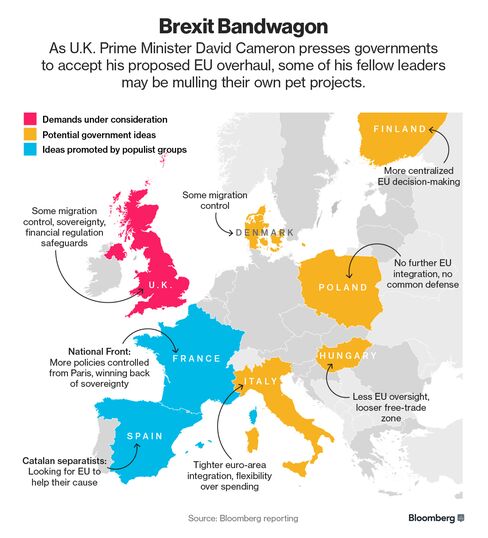 Before it's here, it's on the Bloomberg Terminal.
LEARN MORE