How Jamie Dimon Can Add an Extra $10 Million to His 2015 Bonus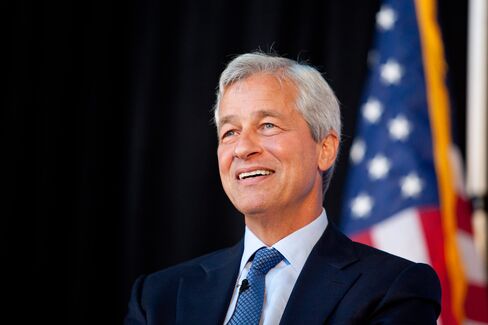 JPMorgan describes CEO's new performance targets in filing

His bonus can jump 50% if bank outperforms peers over years
For JPMorgan Chase & Co. Chief Executive Officer Jamie Dimon to earn his 2015 performance bonus, he needs to keep the firm out of the bottom five in a ranking of 12 major banks. If he does better, his bonus can jump by more than $10 million.
JPMorgan's board revamped Dimon's compensation in response to shareholders and proxy advisers who wanted concrete goals for the New York-based bank's executives. If the firm's future return on tangible common equity compares favorably to rivals', he can earn up to 150 percent of his $20.5 million performance bonus for 2015, the lender said Tuesday in a filing that describes how the new system works.
The peer group includes high-performing competitors such as Wells Fargo & Co., the world's most valuable bank, and struggling European firms such as Deutsche Bank AG, down 32 percent this year. A table shows that for returns between 6 percent and 14 percent, executives are judged on a sliding scale compared with rivals. If JPMorgan ranks at least seventh during a three-year period, Dimon stands to get 100 percent of his performance bonus. A top-three showing yields a 150 percent payout, turning his 2015 award into an almost $31 million payout.
Under Dimon, who is also chairman, JPMorgan has reported record profits in five of the past six years. The firm's return on tangible common equity was 13 percent in 2014 and 2015, and 15 percent in 2010 through 2012, the company said Tuesday in a presentation.
Dimon's total compensation package, which includes a $5 million cash bonus and $1.5 million salary, was valued at $27 million for 2015, a 35 percent increase from the previous year. That assumes a 100 percent bonus payout. The 59-year-old CEO also risks getting nothing for performance-linked pay if returns are below 6 percent.
Before it's here, it's on the Bloomberg Terminal.
LEARN MORE