Cutting debt remains company's strategic focus, CFO says

Producer looking to take opportunities to lower liabilities
Fortescue Metals Group Ltd. has $1 billion available to reduce debt, and the slump in the junk market may provide opportunities.
The world's fourth-biggest iron-ore producer says bond repurchases have helped it to slash costs and offset some of the pain created by a commodity price slump that's seen the steelmaking material tumble more than 70 percent from its peak. And with this year's rout in global credit markets weighing on the company's notes, Chief Financial Officer Stephen Pearce says he wants to seize chances to do more.
"We are sitting at about $1 billion plus above our stated liquidity level, so we clearly have that sort of firepower on the balance sheet today," Pearce said in a phone interview on Wednesday. "It's a question of assessing the best opportunity, the best timing and the best method of how we either call it, tender it, or seek to buy it back."
Junk Selloff
The collapse in energy and metals prices has combined with concerns about global growth to help push investors away from riskier assets such as equity and credit. The average yield premium over government debt on U.S. bonds issued by junk-rated miners widened to as much 1771 basis points this month, more than three times its 2014 low, according to a Bank of America Merrill Lynch index.
While the yield premium over Treasury rates on Fortescue's March 2022 note, its largest outstanding bond, has narrowed to 1007 basis points as of 5 p.m. on Thursday in Sydney from as much as 1267 last month, it's still wider than when it was issued. The secured notes priced at a gap of 851 basis points back in April and Fortescue has since retired $140 million of the $2.3 billion sold, according to data compiled by Bloomberg.
The company's $319 million net profit for the six months through December, although down 4 percent from a year earlier, beat the median estimate of analysts surveyed by Bloomberg.
Buyback Opportunities
Pearce said the producer's improved performance isn't being reflected in the pricing of its debt, opening potential opportunities for repurchases.
In addition to its March 2022 bond, the miner has also bought back more than half of the notes originally issued on its April 2022 and November 2019 lines. In the second half of last year it repaid $1.1 billion of debt, trimming its net debt pile to $6.1 billion as of Dec. 31. Those early repayments generated annualized interest savings of about $88 million.
"There is a little bit of a disconnect between the cash we have and how we are traveling and the broader commodities sector," Pearce said. "We will look to take advantage of that while that disconnect continues."
The iron ore producer is rated Ba2 by Moody's Investors Service, two steps below investment grade, and it's currently on review for downgrade. Standard & Poor's, which has it at the equivalent BB ranking with a negative outlook said Wednesday that the miner's cost-cutting efforts had improved its debt-to-earnings ratio.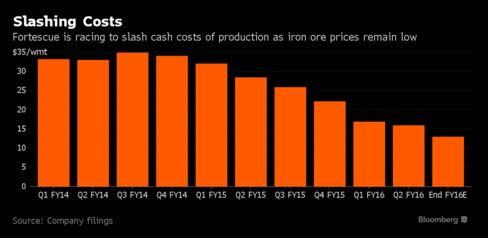 The steelmaking material was at $51.64 a ton in China on Wednesday. While that's above the low of $38.30 reached in December, it's fallen 19 percent over the past 12 months and compares with its 2011 peak of $191.70.
"Given the volatility in commodity markets over the past year or two, our approach has been to earn the cash and then apply it to debt," said Pearce. "You should expect to see that continue."
Before it's here, it's on the Bloomberg Terminal.
LEARN MORE