Exchanges Talk Marriage While Their Nations Contemplate Divorce
London, Frankfurt deal would create `European super exchange'

Combined LSE, Deutsche Boerse would be worth $28 Billion
Two of Europe's biggest exchange operators are considering marriage even as politicians contemplate divorce.
London Stock Exchange Group Plc and Deutsche Boerse AG said on Tuesday they're in talks about a merger that would create a combined business worth more than 20 billion pounds ($28 billion). The discussions were confirmed as British voters consider whether the country should remain in the European Union ahead of a referendum on membership.
The merger would create Europe's biggest exchange, giving the region a champion as exchanges have gone global. The combined company would also be able to help customers address rising collateral costs, while the deal would strengthen their positions in derivatives, equities, indexes and clearing. The exchange industry has long been marked by dealmaking, with companies such as Intercontinental Exchange Inc. and CME Group Inc. growing through acquisitions.
"I think it's not necessarily about synergies and cost savings for the
exchanges themselves -- although they should have them from clearing and
technology combinations," said Niki Beattie, head of Market Structure Partners, which advises brokers and exchanges, in a phone interview. "It's more about the opportunity to create a European super exchange before one of the U.S. exchanges or Hong Kong Exchanges & Clearing Ltd. take that opportunity away."
National Symbol
LSE Group Chief Executive Officer Xavier Rolet, along with 35 other chairmen or CEOs of the U.K.'s biggest companies, signed a letter to The Times this week urging Britons not to leave the EU. Rolet has repeatedly argued that there's room for only a handful of firms to operate trading venues, clearing and related services around the globe, and the U.K. must ensure one of its companies is among them.
Regulators will scrutinize the deal between the major exchange groups to weigh whether it will limit competition. Exchanges tend to be symbols of national pride, which could make EU approval more fraught.
The European Commission squashed Deutsche Boerse's attempt to take over the NYSE Euronext in 2012, saying it would lead to a "near-monopoly" in European exchange-traded derivatives that would ultimately harm customers. Regulators may be warmer to Deutsche Boerse's plans with LSE this time around, because the groups deal primarily with different kinds of derivatives, said Eric Compton, an analyst at Morningstar Inc.
"It's not an automatic no, based on the commission's previous statements on the NYSE and Deutsche Boerse merger," Compton said.
Britain's possible exit from the EU, dubbed Brexit, could add an additional layer of uncertainty, said Jonathan Goslin, an analyst at Numis Securities Ltd. in London.
"If you came to a Brexit scenario, it would raise a serious number of questions," Goslin said. "If it could go through, there are significant benefits for both parties, but we remain mindful of the challenge."
CME Rival
An LSE-Deutsche Boerse deal would also create a stronger rival to CME Group Inc., the world's largest derivatives market. That company was formed by the Chicago Mercantile Exchange's 2007 acquisition of the Chicago Board of Trade. Then a year later, CME bought the New York Mercantile Exchange.
Shareholders reacted positively to the prospect of a deal. LSE's stock jumped 14 percent to 2,630 pence on Tuesday, its biggest rally since 2008. Deutsche Boerse climbed 3.2 percent to 78.80 euros. The rally pushed LSE's market capitalization to $12.5 billion and Deutsche Boerse to $16.3 billion.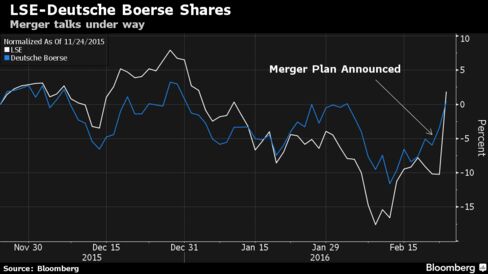 Scale has become more important as regulations have made the collateral used in trading more expensive. Deutsche Boerse has a sizable futures clearing business while LSE is majority owner of LCH.Clearnet, the world's biggest swap clearer. Putting the products under one roof would allow customers to reduce their overall collateral in one place, saving them money. The process is called cross-margining.
"Increasingly the clearing, and whether I have to go to two clearing houses or go to one super clearing house, will become more important," Beattie said. "The synergies for clients could be very significant."
Index Businesses
As stock trading has become more competitive and less profitable, exchange companies have diversified into index businesses. Deutsche Boerse took full control of index companies Stoxx AG and Indexium AG last year. LSE has an index business called FTSE Russell. Those products may also complement each other.
"Indexes have also been a strong growth area for both of these companies in recent months and quarters, and that's another area where you could see significant revenue and cost synergies," said Arjun Bowry, a Bloomberg Intelligence analyst.
It's not a perfect fit, however. LSE has been working with banks to launch a derivatives market that would compete with Eurex, the derivatives exchange owned by Deutsche Boerse. The project, called CurveGlobal Ltd., is scheduled to go live before the end of June.
The chief executive officers of the companies, both of whom have Wall Street backgrounds, are willing deal makers. LSE's Rolet has bought an index provider and expanded into clearing, while Deutsche Boerse boss Carsten Kengeter spent $1.5 billion in his first 60 days in charge of Eurex.
Should the deal go through, the board would have an equal number of directors from both companies, according to a statement on Tuesday. And if regulators approve the all-share merger, LSE Group equity holders would own 45.6 percent of the enlarged group, while Deutsche Boerse stockholders would get 54.4 percent.
U.K. voters, meanwhile, will decide on June 23 whether to stay in the European Union. Kengeter said in a Brussels speech on Tuesday that it's an "illusion" to think Frankfurt would profit from the U.K. leaving the EU.
Deals That Weren't
Deutsche Boerse tried to buy a smaller version of London Stock Exchange in 2005. It dropped its bid after shareholders led by hedge funds opposed the plan. The flop led to the end of Werner Seifert's tenure as Deutsche Boerse CEO. The company in 2004 failed to buy SWX Swiss Exchange.
The most famous acquisition by Kengeter's predecessor, Reto Francioni, was one that didn't happen: the NYSE Euronext bid that was rejected by the European Commission in 2012. Francioni called it a "black day for Europe."
Before it's here, it's on the Bloomberg Terminal.
LEARN MORE