Euro Falls for 3rd Day as `Brexit' Contagion Spreads Beyond U.K.
Currency falls to three-week low amid EU referendum campaign

Polls suggest tight race between `Leave' and `Remain' camps
The euro fell for a third day on concern Britain's exit from the European Union would be almost as bad for the shared currency as it would for the pound.
While sterling is the biggest loser among its Group-of-10 peers over the past week, the 19-nation currency is the third-largest as investors judge that a "Brexit" would undermine the European project as a whole and hurt regional growth. The referendum campaign has heated up in the past week, with U.K. Prime Minister David Cameron negotiating revised terms of membership and announcing the date of the vote as June 23.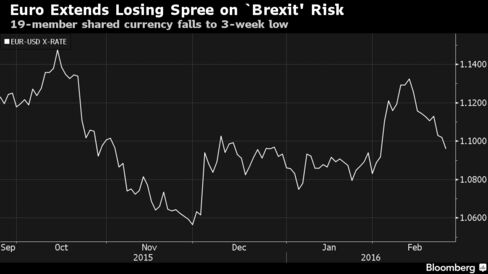 "The EU referendum is skewing the euro picture toward caution and prudence," said Roberto Mialich, a senior foreign-exchange strategist at UniCredit SpA in Milan.
The euro sank to a three-week low against the dollar and the pound dropped below $1.39 for the first time since March 2009 with the latest opinion polls suggesting a close race. A phone poll conducted by ComRes for the Daily Mail newspaper showed 51 percent in favor of the U.K. remaining in the EU and 39 percent backing an exit. An online poll by YouGov Plc for the Times signaled a much tighter result, with the "Leave" campaign having a one-point lead, at 38 percent to 37 percent.
The euro dropped 0.5 percent to $1.0964 as of 7:35 a.m. New York time on Wednesday, after sliding to $1.0957, the lowest since Feb. 3. It has fallen for eight of the past nine trading days and is 1.5 percent lower in the past week, compared with a 2.9 percent decline for the pound.
The shared European currency is also being hurt by speculation the European Central Bank will expand quantitative easing at the time of its March 10 policy decision to boost lackluster growth and inflation.
Before it's here, it's on the Bloomberg Terminal.
LEARN MORE