Denmark Holds Crisis Talks as Government Fights for Survival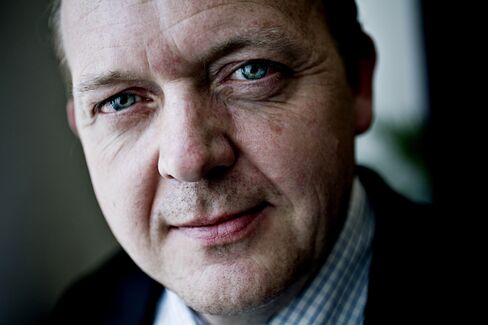 Ruling bloc to hold more meetings over coming days, PM says

Support for ruling Liberals drops to 17%, latest poll shows
Danish Prime Minister Lars Loekke Rasmussen faces a potential censure motion against his embattled environment minister over her handling of an agricultural bill as his government confronts its worst crisis since assuming office eight months ago.
Eva Kjer Hansen no longer enjoys "the confidence" of the Conservatives -- one of three junior parties backing the premier's Liberals in parliament -- after she was accused of misleading lawmakers about the environmental impact of a law allowing farmers to use more fertilizers.
The Conservatives must now decide whether to back the opposition in a debate next week that paves the way for a no confidence vote. Should the minister fail to secure the support of parliament, she could drag down an unpopular government that is struggling to contain a migration crisis and revitalize a weak economy.
Rasmussen has responded by publicly backing his minister and holding conciliatory meetings with his allies.
There was a "constructive, forward-oriented and open atmosphere," the premier said of Wednesday's first round of talks. More meetings aimed at hammering out "an additional agreement that will resolve the issues various parties have and recreate trust" are to take place once the agricultural bill has been approved by parliament, Rasmussen said.
The prime minister has cautioned against calling early elections.
Support for the ruling Liberal Party has dropped to 17 percent, it's lowest level since the June elections, when it obtained 19.5 percent of the popular vote, according to Altinget, a political website. The poll found that if elections were held today, a coalition of opposition parties would gain a three-seat advantage over the ruling bloc.
"This is a really bad time for an election for both the Liberal Party and the Conservatives," said Kasper Moeller Hansen, a political scientist at the University of Copenhagen. "More than anything they need to calm things down."
It hasn't been a smooth ride for Rasmussen, who is in his second stint as prime minister.
His defense minister, Carl Holst, was forced to resign barely three months into the job after being accused of misusing public funds while serving in local government. That departure coincided with vocal criticism of the government for backing down on Denmark's once ambitious green energy policies.
More recently, international outrage greeted Rasmussen's efforts to curb the inflow of asylum seekers through a bill that delays family reunifications and allows police to seize valuables from migrants.
"No one wants an election," Moeller Hansen said.
Before it's here, it's on the Bloomberg Terminal.
LEARN MORE