Brokerage asset-management plans rise 40%, as trusts grow 17%

`It's like water finding the way around the dam,' says Moody's
China's shadow lending has evolved to dodge a clampdown, with brokers and funds taking on the role previously played by more heavily regulated trusts in expanding informal financing.
Banks are increasingly turning to so-called directional asset-management plans issued by brokerages and the subsidiaries of mutual-fund providers to channel lending. The amount of money placed in such products jumped 70 percent last year to 18.8 trillion yuan ($2.9 trillion), outpacing the 17 percent growth for trust assets, according to data provided by industry groups.
The expansion of less-regulated lending makes it harder for authorities to contain debt that's ballooning as economic growth slows to the least in 25 years. Commerzbank AG estimates such financing, hidden from view on balance sheets, may cause banks losses of as much as 1 trillion yuan over five years. Shadow lending assets swelled to 45 trillion yuan as of June 30, equal to about two-thirds of the economy, from 19.2 trillion yuan in 2011, Moody's Investors Service estimates.
"Much of the growth in shadow banking is driven by regulatory arbitrage; it's like water finding the way around the dam," said Stephen Schwartz, a senior vice president at Moody's in Hong Kong. "There are still areas where information is quite limited. We're also concerned about the increasing interconnected-ness between the formal banking system, securities companies and shadow banking."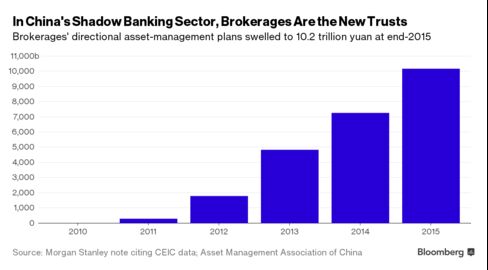 The new shadow channels work like trusts, with a bank investing proceeds from its wealth-management products in a directional plan that then lends to a borrower chosen by the lender. This extension of credit while circumventing restrictions on certain borrowers, like local government financing vehicles, as well as capital requirements.
Brokerages' directional AMPs grew 40 percent last year to 10.2 trillion yuan, while fund subsidiaries' assets more than doubled to 8.6 trillion yuan, according to the Asset Management Association of China. More than 90 percent of directional AMPs are sold to channel bank loans, Morgan Stanley wrote in a Feb. 19 report, adding that 87 percent of fund subsidiaries' assets were invested in non-traded credit assets such as trust loans in 2014.
Brokers and fund subsidiaries, both of which are overseen by the China Securities Regulatory Commission, saw a boom in shadow lending in 2012-2013, just as trusts were facing increased scrutiny from the banking regulator. They chipped away at the trust business, taking advantage of more lax rules and by collecting lower fees. The CSRC wasn't able to immediately respond to a fax seeking comment.
Lower Charges
While the charges can be less than five basis points, shadow lending allows brokerages and fund subsidiaries to grow assets rapidly with credit risks they consider low, according to David Yin, an associate vice president at Moody's in Hong Kong. Some aggressive brokers even offer a guaranteed return to banks, he said.
Banks can skirt capital requirements by recording such financing as receivables, said Matthew Smith, a financial analyst at Macquarie Group Ltd. in Shanghai. Listed lenders excluding the so-called Big Four saw short-term investments and other assets -- which include receivables -- jump 34 percent in the year through June, compared with total asset growth of 15 percent, data compiled by Bloomberg show.
Whose Risk?
"If you talk to a bank, they'll say it's somebody else's credit risk," Smith said. "But the ultimate credit risk doesn't disappear. The brokers for sure are not taking this on in exchange for a few basis points, so ultimately the banks are still holding onto this credit risk. If it all goes bad, the brokers don't have the balance sheet to support it, and somebody else has to come in and take it over."
Shadow banking hit the headlines in 2014 when a 3 billion yuan product issued by China Credit Trust Co. to raise funds for a coal miner faced default. The product was bailed out four days before the payment was due, though it wasn't clear who provided the funds. Growth in AMPs has slowed every year since 2012, when rules on brokerages' asset management businesses were first eased and such plans surged 575 percent.
Debt Surge
China's debt-to-gross-domestic-product ratio climbed to 232 percent at the end of 2014 and the situation is getting worse. A central bank report last week showed the broadest official measure of credit soared to a record 3.42 trillion yuan in January. While the gauge covers some shadow-banking actors such as trusts, it doesn't include newer forms such as brokers, funds and peer-to-peer lending.
Regulators probably don't intend to tighten rules over brokers' or fund subsidiaries' shadow financing for now as they have other priorities, said Yin at Moody's. Liu Shiyu, who replaced Xiao Gang as CSRC chairman, has been tasked with restoring confidence in equity markets, an overhaul of initial public offerings and expanding a trading link with Hong Kong.
Regulators still seem determined to clamp down on riskier shadow-banking activities, said Schwartz at Moody's.
"Every time they clamp down on one area, the financing pops up in another," he said. "If you say one of the chief goals of re-balancing is to have lower leverage in the economy, this objective has been set aside."
Before it's here, it's on the Bloomberg Terminal.
LEARN MORE