Bond Traders Bet on South African Budget as Demand Soars: Chart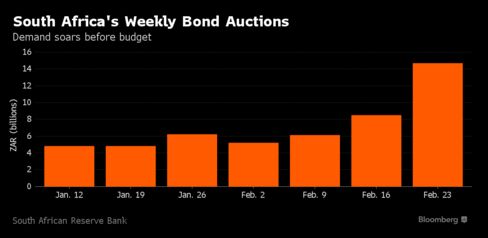 Bond traders are betting South African Finance Minister Pravin Gordhan will deliver the spending cuts and tax increases needed to avoid a credit-rating downgrade to junk when he tables his annual budget on Wednesday. Demand soared at the weekly Treasury debt auction on Tuesday, with 14.7 billion rand ($966 million) of bids. That's more than six times the 2.35 billion rand of securities on sale, the highest ratio this year.
Before it's here, it's on the Bloomberg Terminal.
LEARN MORE