Adcock Sees India Sale as Drugmaker Reinstates Interim Dividend
Higher import costs are single-biggest concern for management

Impact of weaker local currency to be felt more in second-half
Adcock Ingram Holdings Ltd., South Africa's largest supplier of hospital products, reinstated a half-year dividend after a two-year break and said it's in advanced talks about the sale of the company's Indian sales and marketing unit.
"In November we invited interested parties to look at it," Chief Executive Officer Andy Hall said by phone on Wednesday. Adcock, which agreed to buy the Goa, India-based Cosme Pharma unit in early 2012 for 708 million rand ($46 million), plans to keep its stake in an unrelated manufacturing unit in India and retain regulatory support functions in that country because of lower costs than in South Africa, Hall said.
Adcock is looking for acquisitions in personal, home and baby care in its home market as it seeks to grow sales from non-regulated products, Hall said. South Africa sets limits on price increases of certain drugs and medical products.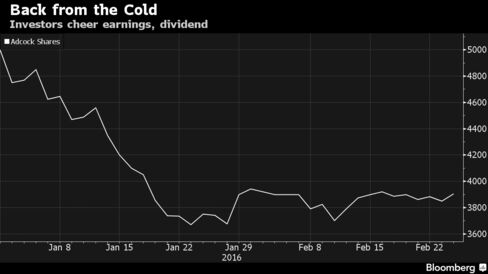 The stock rallied as much as 12 percent, the biggest intraday gain since March 2013, and traded 0.9 percent higher at 38.83 rand as of 11:40 a.m. in Johannesburg, paring the year's decline to 22 percent.
Adcock's trading profit rose 20 percent to 293 million rand in the six months through December, while revenue climbed 7 percent to 2.76 billion rand, the company said in a statement. A dividend of 50 cents per share was declared after no payout for the last two half-year periods.
The maker of Corenza flu medicine and Panado pain killers sees the weaker rand against the dollar and euro as its "single biggest issue," Hall said. The currency impact will be greater in the second half as stocks that were bought at a better exchange rate have been depleted, he said. The rand has weakened 25 percent against the dollar in the past year.
CFR Pharmaceuticals SA, Chile's biggest drug maker, called off a cash and stock offer to buy Adcock in early 2014 after Johannesburg-based Bidvest Group Ltd. built up its stake to block the bid. Bidvest is now the largest shareholder with about 37 percent of Adcock, while Public Investment Corp., South Africa's largest money manager that controls state pension funds, holds about 22 percent.
Before it's here, it's on the Bloomberg Terminal.
LEARN MORE