Singapore Dollar Could Strengthen Past Resistance on GDP: Chart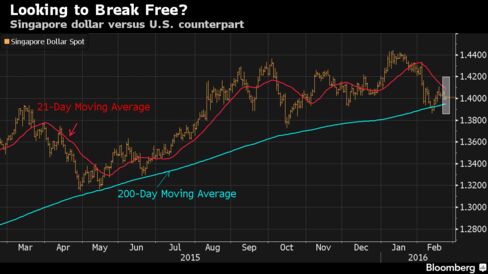 Watch the Singapore dollar if the government reports a better-than-forecast final fourth-quarter GDP report Wednesday. An upside surprise in the economic data could be the trigger to convincingly push the Singapore dollar through its 200-day moving average against the U.S. dollar. Apart from one day this month, the Singapore dollar hasn't strengthened past the average since September 2014, and the spot rate has been confined within the 21-moving average line, suggesting that momentum is building for a break of the 200-day line.
Before it's here, it's on the Bloomberg Terminal.
LEARN MORE