JPMorgan, Goldman Alone Among Peers in Post-Crisis World: Chart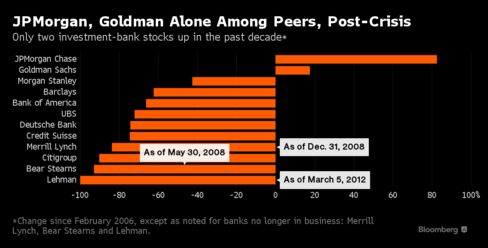 The seventh anniversary of the post-financial crisis intraday low for the Standard & Poor's 500 Index is coming up at the beginning of March. So what better time to look at how investment banks have held up in the aftermath? Over the past decade, or since about two years before the crisis, the shares of only two of Wall Street's top dozen firms are up: JPMorgan Chase & Co. (83 percent) and Goldman Sachs Group Inc. (18 percent). The rest are either out of business or down anywhere from Morgan Stanley's 43 percent to Citigroup Inc.'s 90 percent.
Before it's here, it's on the Bloomberg Terminal.
LEARN MORE