History Shows the Pound Can Drop a Long Way in Crisis: Chart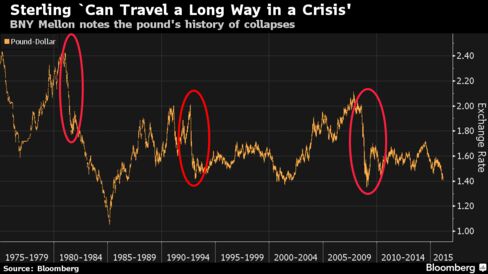 Sterling "can travel a long way in a crisis," according to Bank of New York Mellon Corp. strategist Simon Derrick. The currency lost at least 25 percent against the dollar in six months during collapses in 1981, 1992 and 2008, and posted losses of about 15 percent during six other half-year periods since 1975, according to BNY. While losses have yet to reach those levels, the currency tumbled 1.8 percent on Monday, the most since 2010, after London Mayor Boris Johnson said he'll campaign for Britain to leave the European Union in a June referendum. It's down more than 10 percent in the past six months.
Before it's here, it's on the Bloomberg Terminal.
LEARN MORE