Here's Another Reason Gold Prices Are Poised to Go Higher: Chart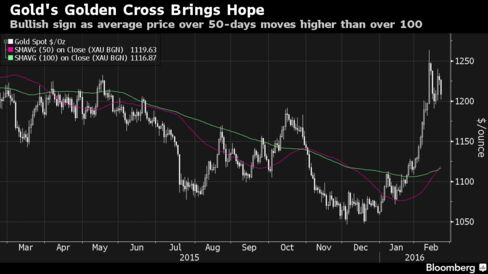 Gold's average price in the past 50 days on Friday closed higher than for the 100-day period, representing a so-called golden cross. That's seen as bullish by some traders and analysts who look to chart patterns for price direction. It's only happened when both measures were trending higher 10 times since the turn of the century, with prices rallying an average of 2.8 percent in the subsequent 90 days. "Over the medium term this should be a bullish signal," Jonathan Butler, a precious metals strategist at Mitsubishi Corp. in London, said by e-mail. Shorter term, dollar and equity gains may cap a rally, he said.
Before it's here, it's on the Bloomberg Terminal.
LEARN MORE