Germany Posts Biggest Budget Surplus Since Reunification: Chart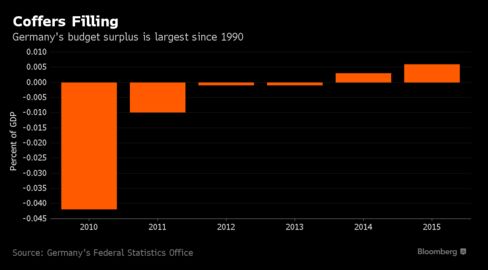 Germany's 19.4 billion-euro ($21.4 billion) budget surplus last year was the highest since reunification in 1990 in absolute terms, according to data from the Federal Statistics Office. Finance Minister Wolfgang Schaeuble's debt-cutting defends an election pledge from Chancellor Angela Merkel to balance the budget and provides a timely cushion as spending to cope with the influx of refugees increases. The arrivals will increase public spending in Europe's largest economy by 25 billion euros to 55 billion euros a year, according to December calculations by the Kiel Institute for the World Economy.
Before it's here, it's on the Bloomberg Terminal.
LEARN MORE