China Bears Retreat Following Markets' Roller-Coaster Ride
ETF's relative strength index near highest since December

Short interest plunges to 4.5% of outstanding shares
Investors are scaling back bets against Chinese equities as the nation's stock-market recovers from last year's plunge amid government efforts to shore up shaky sentiment.
Short interest in the largest U.S. exchange-traded fund tracking domestic Chinese stocks fell to 4.5 percent of shares outstanding on Feb. 23, from 12 percent three weeks ago. That's a one-month low and almost the smallest since January 2015, according to data compiled by Markit and Bloomberg.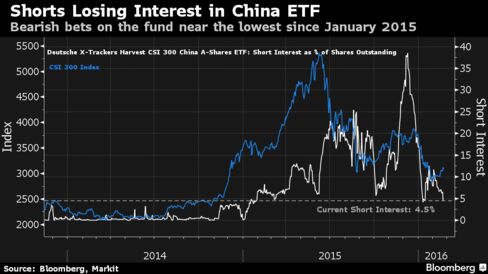 That measure of bearish wagers on the Deutsche X-trackers Harvest CSI 300 China A-Shares ETF hit a record 38 percent on Dec. 9, and the fund then fell 24 percent to a 15-month low on Feb. 11. So far this year, the ETF is down 17 percent, not quite as much as the CSI 300 Index. The latest drop in short-sale bets isn't as steep as what happened last month, when traders abandoned wagers against the ETF during the Chinese stock market's biggest sell-off in years.
The ETF's 14-day relative strength index has steadily increased this month after twice dipping below 30 into oversold territory in January. That measure of trading momentum is now at about 50.
Chinese policy makers have rejected calls for a large depreciation in the currency and stepped up efforts to stabilize the yuan. Their moves to manage the country's financial markets -- which included flip-flopping on a rule that halted stock trading during sharp drops and hiking money-market rates to a record high in mid-January -- confused investors and contributed to rampant capital outflows. The stock market has gone from boom to bust and back again more times in the past 12 months than most major peers do over the course of a decade.
Before it's here, it's on the Bloomberg Terminal.
LEARN MORE