This Chart Shows the Rise of Venture Funding in Canada, Nearing U.S. Growth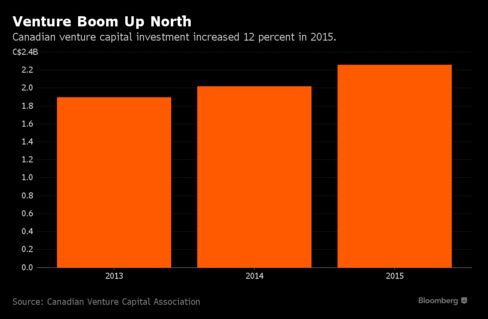 Canadian venture investment rose 12 percent to C$2.3 billion ($1.7 billion) in 2015, thanks partly to sizable rounds for payments startup Lightspeed POS Inc. and messaging app maker Kik Interactive Inc., according to data from the Canadian Venture Capital Association. The growth rate approached that of the U.S., where venture funding increased 16 percent to $58.8 billion in 2015, according to data from the National Venture Capital Association and PricewaterhouseCoopers LLP. While financing for Canadian companies is much smaller overall, deals such as the initial public offering of Shopify Inc. drove the value of exits to C$4.26 billion from C$1.46 billion in 2014, the Canadian trade group said.
Before it's here, it's on the Bloomberg Terminal.
LEARN MORE