The Kids' Sports Car That Helicopter Parents Will Love
This $600 electric go-kart sounds like a Ferrari.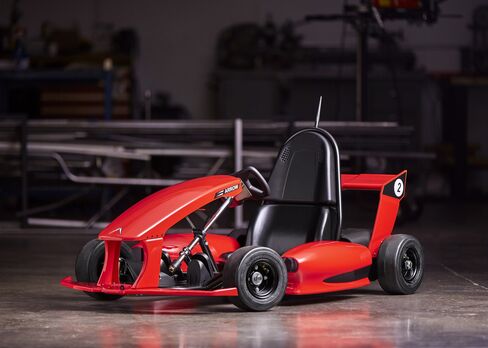 With a custom body kit, Formula One-esque steering wheel, and sleek red paint job, Arrow is the sports car of your dreams. But it's 23.5 inches tall, and you can't fit in it. (Neither can I, but not for lack of trying.) Isaac Pierce, an elementary school student, slides right in, adjusting the pedals on the customizable electric go-kart to fit his 9-year-old frame. He puts on his helmet and quickly reaches top speed: 12 miles per hour.
Starting at $599.95, the Arrow Smart-Kart, designed by Actev Motors, gathered a regular audience at last week's New York Toy Fair, where Isaac showed herds of jealous adults how to get the race car and drift. His dad, Mike Pierce, the company's vice president of operations, then demonstrated Isaac's least favorite feature: how to brake. With a tap on a tablet screen, the elder Pierce stopped the joy ride. Isaac whipped his head around to see why.
Accessible by app, the go-kart has a series of safety features meant to appeal to parents as much as the Ferrari-engine vroom appeals to Isaac. Actev's app allows parents to create a virtual fence that prevents the child from driving too far from home, use anti-collision software to ensure the kart doesn't crash into mom's real sports car, and regulate the car's speed. There's also an option to remotely put the car in "Park," if need be.
Incorporated in late 2014, the company was born when its chief executive officer, Dave Bell, saw a vacuum in the riding toy car market: There were slower speed cars for two-to-five-year-olds and larger mini-vehicles for kids nine and older, but nothing for the four-year gap in between. "It is a very different product than the Barbie cars or Power Wheels," Bell said. "Those really have no intelligence whatsoever."
Twitter: Actev Motors on Twitter
But all those smarts come at a cost. The base model is just under $600, and the body kit costs an extra hundred, plus $50 more for the drifting tires. Despite the price, Bell said demand at the fair, where about 1,200 toy manufacturers displayed their wares, was high.
While most toy cars are geared to one gender, signaled by a pink paint job or macho decal, Actev sought to capture a unisex audience by making just one model in both red and silver, colors that tested well with boys and girls. In a parking lot behind the company's Mountain View, Calif., headquarters, three dozen kids took the car for a spin before it hit the market, as did a few adult employees who compromised comfort for quality assurance, Bell said.
Now that the car has hit the preorder market, 9-year-old Isaac said he'd encourage his fellow kids to ask for one. "I want to race my friends," he said, but he crossed his arms and scrunched his face when I asked how he feels when his dad hits the brakes. "That's annoying."
Before it's here, it's on the Bloomberg Terminal.
LEARN MORE