Sainsbury Closer to Investor Showdown on Home Retail Bid: Chart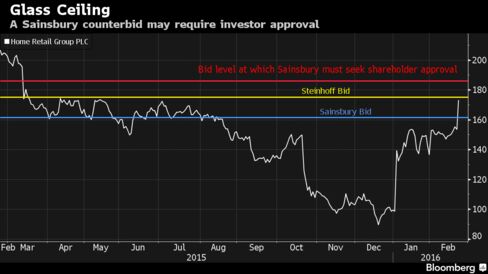 Steinhoff's $2 billion counter-bid for Home Retail Group means J Sainsbury is a step closer to having to ask its own shareholders for permission to buy the Argos owner. A U.K. rule requiring a bidder to gain investor approval when the price exceeds 25 percent of its own market value would be triggered should Sainsbury offer more than 186 pence a share, according to Sanford C. Bernstein analyst Richard Clarke. "It's something Sainsbury's would want to avoid" as some investors "are quite opposed to this deal," Clarke said.
Before it's here, it's on the Bloomberg Terminal.
LEARN MORE