Fraga Sees Brazil Suffering New Lost Decade in Just Three Years
'We're not muddling through, we're sinking,' he says

Says government too weak to win approval of economic reforms
Brazil's economy faces a prolonged rout with no recovery in sight, as political uncertainty weighs on investor confidence and structural reforms show no sign of gaining traction, according to fund manager and former central bank chief Arminio Fraga.
Even if President Dilma Rousseff survives attempts to remove her from office, she will be too weak to win approval of measures required to put the economy back on track, Fraga said in an interview. Gross domestic product per capita will decline in three years as much as it did in the so-called lost decade of the 1980s, he said at the Rio de Janeiro headquarters of Gavea Investimentos Ltda., the investment firm he founded in 2003.
"I certainly don't see a bottom. We're not muddling through, we're sinking," Fraga, 58, said about Brazil's economy. "If she survives, she still won't have a mandate to do things. That conspires against much good happening."
Fraga says he's just being realistic about the economy, which according to the International Monetary Fund will contract for a second straight year in 2016 before posting zero growth in 2017. His comments echo fellow fund mangers such as Luis Stuhlberger at Fundo Verde, who said this month that asset prices may drop further if the government fails to contain rising debt. That failure prompted Standard & Poor's this month to downgrade the nation further into junk territory.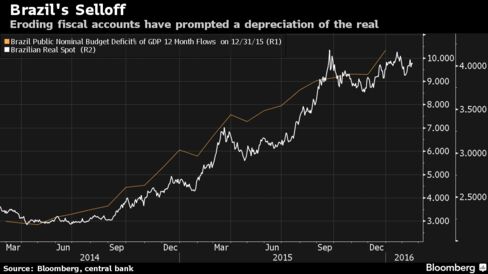 Brazil's eroding fiscal accounts have contributed to a 29 percent decline in the real over the past year, which the government contends will make exports more competitive. Fraga said those benefits have been largely offset by a decline in the terms of trade. Brazil's Finance Ministry didn't respond to an e-mailed request for comment.
2018 Election
The 2018 presidential election stands as a possible watershed moment, as Brazilians may pick a leader who could revive growth and adopt fiscal discipline, according to Fraga, who was the main economic adviser to the runner-up in the 2014 race, Senator Aecio Neves.
"I could see that, although there's no guarantee. This is fertile ground for populism," he said. "People still believe the state is a big family and that they ought to be taken care of. I most certainly think the state needs to offer a lot, and Brazil as an unequal society has to have that -- up to a certain point."
The government has struggled to rein in expenditures and on Friday said it would freeze 23.4 billion reais ($5.8 billion) in discretionary spending to help shrink the budget deficit. But even as it promotes belt tightening, the government has asked state banks to free up as much as 83 billion reais in credit to stimulate growth as it proposes loosening fiscal targets. That raises questions about its commitment to austerity, Fraga said.
"It's just confirming people's expectations, in a negative way," he said.
Before it's here, it's on the Bloomberg Terminal.
LEARN MORE