Chesapeake Surges Most in Seven Years on Buyout Speculation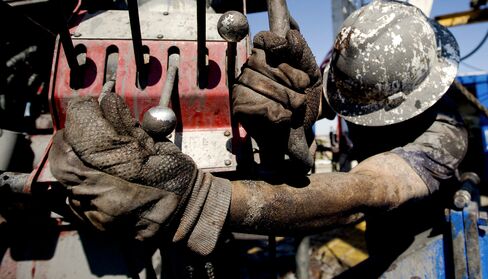 Chesapeake Energy Corp., the worst-performing stock in the S&P 500 index last year, jumped the most since 2008 after a financial blog said the shale gas driller may be ripe for acquisition.
The stock rose 20 percent to $2.39 on Monday in New York for the biggest one-day increase since December 2008. Chesapeake has advanced for five consecutive sessions, racking up 50 percent in gains, after Bloomberg reported on Feb. 12 that the company plans to pay $500 million of debt maturing next month.
Chesapeake, which pumps more U.S. natural gas than any producer other than Exxon Mobil Corp., is a "prime takeout candidate," a contributor wrote on the Seeking Alpha blog Monday. Speculation that the heavily-indebted shale explorer may be headed for bankruptcy is unwarranted, the blog said. The company said earlier this month that it had no plans to pursue bankruptcy protection.
Chesapeake's 3.25 percent notes maturing next month have risen to 95.45 cents on the dollar after posting a record one-day plunge to 84 cents on Feb. 8. The company has a $9.8 billion debt load that is six times its market valuation, and more than $1 billion in debt payments due between now and the end of 2017.
Chesapeake has been firing workers, shutting offices, canceling drilling projects and restructuring debt to cope with a glut-driven collapse in prices for gas, the Oklahoma City-based company's main product. Chesapeake is expected to post fourth-quarter and full-year 2015 financial results on Wednesday.
The company's debt rating was cut deeper into junk by Moody's Investors Service on Monday as the collapse of oil prices saps cash flows needed to repay obligations. Chesapeake's corporate family rating was lowered three steps to Caa2 from B2, as part of a review of 12 exploration and production companies.
Before it's here, it's on the Bloomberg Terminal.
LEARN MORE