Health agency reverses its own finding from earlier this month

Original report used incorrect ceiling height to weigh danger
Lumber Liquidators Holdings Inc. fell the most in more than six months after the U.S. regulators said some of the retailer's laminate flooring has a three times greater risk of causing cancer than previously stated.
The U.S. Centers for Disease Control and Prevention said in a statement on its website that an earlier report on the flooring used incorrect ceiling heights, lowering the airborne concentration that should have been examined and reducing the estimated danger.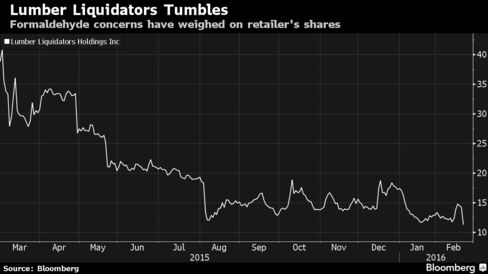 The reversal brings a fresh headache to a company reeling from almost a year of crisis. Lumber Liquidators tumbled 20 percent to $11.40 at the close in New York, the biggest drop since Aug. 5. The shares already had plummeted more than 70 percent since the March airing of a "60 Minutes" story that alleged Lumber Liquidators flooring had potentially dangerous levels of formaldehyde.
The estimated risk of tumors is six cases to 30 cases per 100,000 people, more than the two to nine cases in the earlier report, said the CDC, which was notified about the error by "60 Minutes." The CDC said that while it is revising its assessment of the flooring's possible health effects, it expects to maintain its recommendations that consumers take steps to reduce their exposure.
CDC Recommendations
Lumber Liquidators said it supports the CDC's recommendations and that it is "encouraged" that the agency is reviewing its conclusions. The company also repeated that it has strengthened its quality-assurance procedures, suspended sales of Chinese laminate and offered free air tests to customers.
"We remain committed to operating with integrity and delivering quality flooring to our customers," the Toano, Virginia-based company said in an e-mailed statement.
The crux of the allegations was that Lumber Liquidators sold laminate flooring with levels of formaldehyde that exceeded those allowed in California, which has the strictest standards in the country. After the "60 Minutes" story, the company raised doubts about the testing that the show had used, saying it wasn't measuring the amount of formaldehyde that may be released in a person's home.
Formaldehyde is a naturally occurring colorless, flammable chemical used to make certain building materials and household products that's toxic to animals, including humans. People with breathing conditions including asthma and bronchitis are especially sensitive to formaldehyde exposure.
Before it's here, it's on the Bloomberg Terminal.
LEARN MORE