Peabody Mine Sale Said to Hit Snag as Bowie Stalls on Financing
Slump in coal prices, sour credit markets said to be at issue

Parties are said to try to renegotiate terms of transaction
Peabody Energy Corp.'s plan to sell three mines to Bowie Resource Partners has hit a snag amid the persistent slump in coal prices and souring sentiment in credit markets, according to people familiar with the matter.
Bowie Resource, which began a $650 million loan sale last month to help fund the acquisition, has put the debt-financing deal on hold as the parties try to renegotiate the terms, said the people, who asked not to be identified because they aren't authorized to speak publicly about the discussions.
Asset sales are critical to Peabody as the largest U.S. coal miner struggles to outlast the industry's worst downturn in decades. The company is looking to reduce costs and negotiate with creditors to cut debt, Chief Executive Officer Glenn Kellow said on a Feb.11 earnings call. With cheap natural gas and tougher environmental standards crimping coal sales to utilities, rivals such as Alpha Natural Resources Inc. and Arch Coal Inc. have already filed for bankruptcy.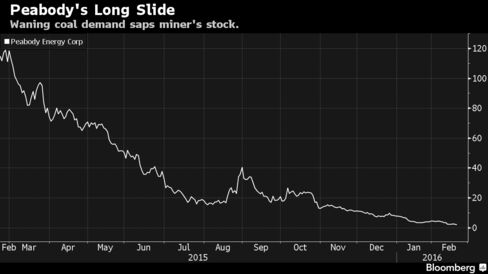 Peabody looks forward "to a successful completion of the planned sale of assets to Bowie," said Vic Svec, a spokesman for the St. Louis-based company. Brian Settles, a representative for Bowie Resource, didn't respond to requests for comment.
Blackstone Funding
Peabody needs "as much cash as possible at this point," Kristoffer Inton, a Chicago-based analyst at Morningstar Investment Services Inc., said in a phone interview. The company's shares have lost almost all of their value in the past year, dropping from $118.95 to $2.04 on Friday.
A Bowie Resource subsidiary agreed to use its "reasonable best efforts" to arrange and obtain a sufficient amount of debt and equity financing to close the transaction announced on Nov. 20, according to a Peabody filing. Jittery debt-market investors have shunned risky deals in recent months as commodities prices continued to plunge and concerns intensified about slowing global growth.
Under the terms of the acquisition, Louisville, Kentucky-based Bowie Resource will have to pay Peabody a $20 million fee if the deal can't be done because of the buyer's failure to obtain sufficient funding, according to a company filing.
When the deal was announced in November, Bowie Resource disclosed that it had already secured equity funding commitments for the transaction, without saying who was providing it. According to the people familiar with the deal, that was to be Blackstone Group.
Blackstone's Paula Chirhart declined to comment.
In the Nov 20 statement, Peabody said it anticipated the deal would close before the end of this quarter.
Peabody had $902.6 million of liquidity as of Feb. 9. The company has tapped the remaining capacity under its $1.65 billion revolving credit facility, it said. It also had $823.7 million in letters of credit.
Before it's here, it's on the Bloomberg Terminal.
LEARN MORE