China Lenders' Foreign-Exchange Holdings Omitted From PBOC Data
January report only showed the central bank's position

Yuan slid to five-year low last month, prompting intervention
China's central bank omitted details of financial institutions' foreign-exchange holdings from monthly data that sheds light on the scale of its intervention to support the yuan.
The change took effect in its report for January, when the currency's slide to a five-year low roiled global financial markets and prompted the People's Bank of China to step up efforts to boost the exchange rate amid record capital outflows. While the authority announced a $99.47 billion slide in its foreign-exchange reserves for last month, less than December's record $107.9 billion drop, the figure may not represent the true extent of dollar sales if state-owned lenders were also used to intervene.
"Sometimes it's the commercial banks that sell a lot of dollars when the PBOC wants to prop up the yuan," said Zhou Hao, a senior economist at Commerzbank AG in Singapore. When this happens, the slide in foreign-currency assets held by Chinese financial institutions "is typically much larger than the decline in foreign reserves," he said.
The PBOC didn't immediately respond to a faxed request for comment and didn't answer two calls for comments outside of office hours.
In September, the assets dropped by a record $117 billion -- almost triple the $43.3 billion decline in the nation's reserves -- as large state banks sold borrowed dollars for yuan and used forward contracts with the central bank to hedge those positions. Historically, the numbers tend to be broadly in line with one another.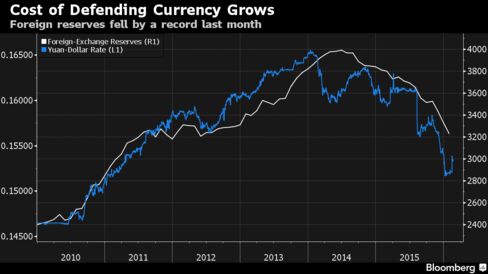 China used intervention, verbal warnings and a tightening of capital controls in its bid to quell speculative attacks on the yuan in the offshore market last month. The measures, which caused overnight borrowing costs for the currency to surge to an unprecedented 66.82 percent in Hong Kong, enjoyed some success and the offshore exchange rate has strengthened 3.6 percent to 6.5244 a dollar since sinking to a five-year low on Jan. 7. The onshore rate gained 1.2 percent to 6.5201 in Shanghai.
The nation's balance of payments position is good, capital outflows are normal and there's no basis for continuous yuan depreciation, PBOC Governor Zhou Xiaochuan said in an interview with Caixin magazine published last weekend. An estimated $1 trillion of funds left China in 2015, about seven times that of the previous year, according to Bloomberg Intelligence.
— With assistance by Tian Chen, and James Regan
Before it's here, it's on the Bloomberg Terminal.
LEARN MORE