Wall Street Banks Gorge on Treasuries and That's a Warning Sign
Primary dealer Treasury holdings are the highest since 2013

Australian 10-year yield falls by the most in almost two weeks
Wall Street's biggest banks boosted their Treasury holdings to the highest level in more than two years, and one of them says that's a warning sign for the market.
The 22 primary dealers including Goldman Sachs Group Inc. and Citigroup Inc. that underwrite the U.S. debt and make a market in the securities held $113.5 billion of Treasuries in the week ended Feb. 10, based on the most recent central bank data. The amount is the most since October 2013.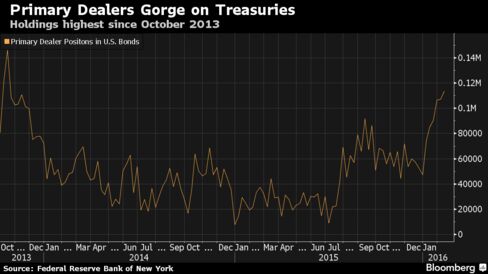 The figures suggest investors are unloading securities on to the Wall Street banks, which are having trouble reselling the bonds, according to Nomura Holdings Inc., one of the dealers. Treasuries were little changed this week, failing to extend a rally from earlier in the month, as a selloff in stocks eased and investor demand for the relative safety of government securities ebbed.
"Dealers are getting hit with this paper," said John Gorman, the head of dollar debt trading for Asia and the Pacific at Nomura in Tokyo. "Their customers are bearish and selling."
Treasury 10-year note yields rose two basis points, or 0.02 percentage point, to 1.76 percent as of 1:18 p.m. in New York, according to Bloomberg Bond Trader prices. The 1.625 percent security due in February 2026 fell 7/32, or $2.19 per $1,000 face amount, to 98 23/32. The yield has climbed after dropping to 1.53 percent earlier this month, which was 15 basis points from the record low reached in July 2012.
Up-And-Down Week
It's been an up-and-down week for U.S. government securities, which gained Thursday as BNP Paribas SA and Credit Suisse Group AG cut their yield forecasts. Ten-year yields fell eight basis points on Thursday, after rising seven basis points in the previous two days.
A report by EPFR Global on Friday showed investors ditched European bonds in favor of U.S. fixed-income assets in the week ended Feb. 17 as they sought higher yields. Market volatility and expectations that the European Central Bank will ease policy further dragged yields of $2.2 trillion worth of debt in the region below zero.
Investors redeemed more than $1.5 billion from European bond funds while adding almost $6 billion to U.S. counterparts in that period, according to EPFR Global data.
The yield premium that U.S. 10-year Treasuries offered over that of German bunds is at 1.53 percentage points, after falling to 1.43 percentage points on Feb. 10, the least on the closing basis since September.
Before it's here, it's on the Bloomberg Terminal.
LEARN MORE