Options on Euro-Dollar Futures Herald U.S. Negative Rates: Chart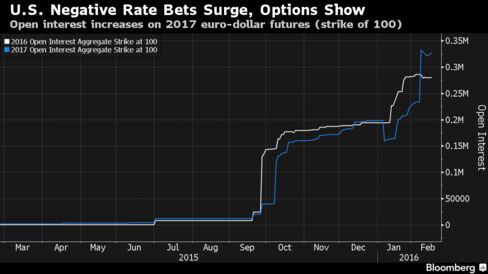 Don't count the U.S. out just yet when it comes to negative interest rates. Market bets that the U.S. Federal Reserve will go negative are higher in 2017, compared with this year, based on options pricing of the world's most actively traded short-term interest rate contracts. A strike of 100 in the contracts, priced in three-month Libor, or the London interbank offered rate, implies negative U.S. policy rates. Open interest on call options for euro-dollar futures with strike at 100 for next year has surged as concerns surrounding a slowdown in China and falling oil prices stall a recovery in U.S. inflation and growth.
Before it's here, it's on the Bloomberg Terminal.
LEARN MORE